Previews gives us a glimpse of what's to come. Here's the spotlight new books coming out of November Previews for the smaller Independent Comics.
Here's the spotlight books on my radar coming out of November Previews. Could be heat potential but normally I'm just chasing a great read with great art.
Abbott 1973 #1
BOOM! Studios
Abbott 1973 #1 (Cover B )
This one could be great if done right. If the interiors are just like we're seeing on the covers, the art will be good. Now Ahmed just needs to deliver the story.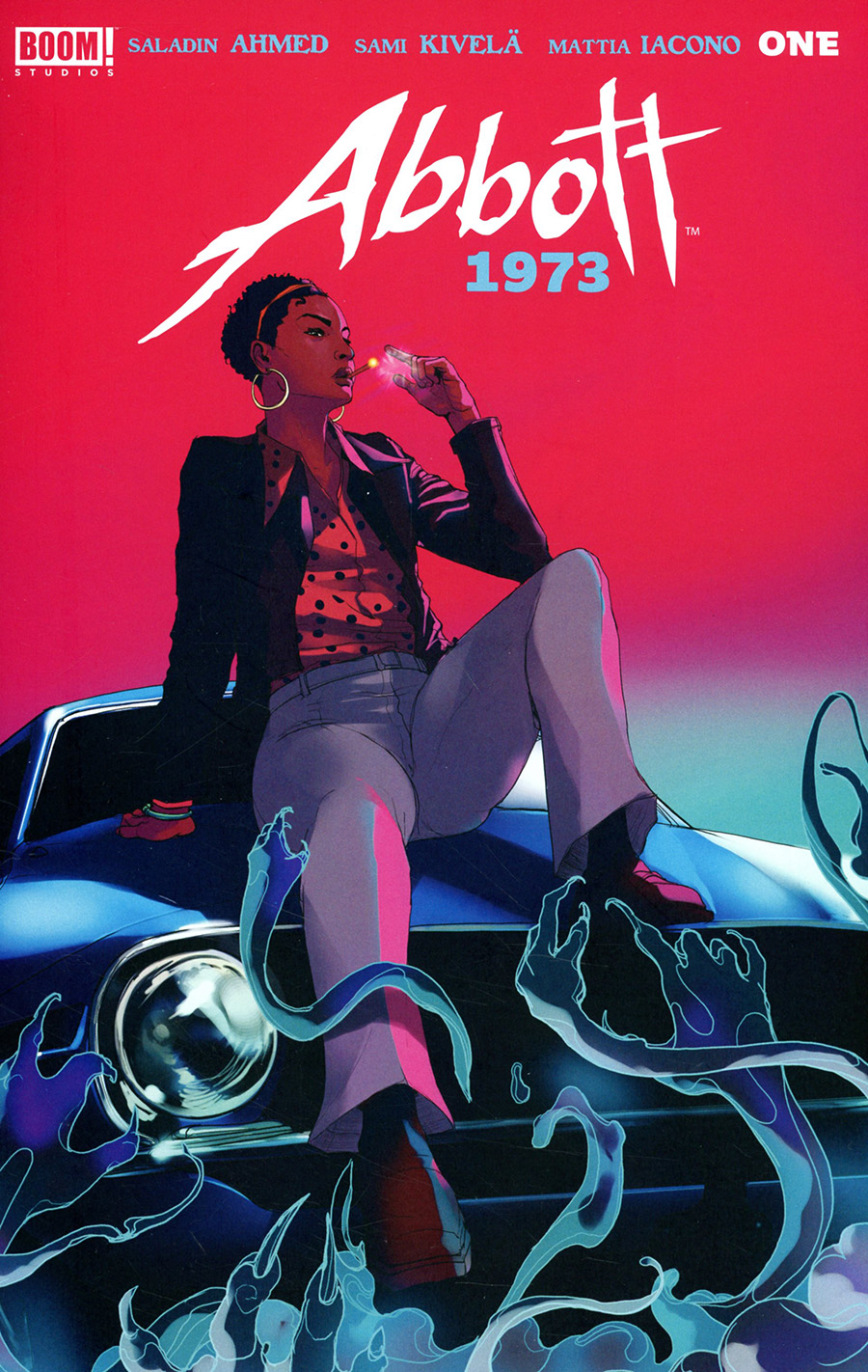 "In a new series for fans of Something is Killing the Children and Bitter Root, Saladin Ahmed, the visionary writer behind Miles Morales: Spider-Man, and Sami Kivelä, the acclaimed artist behind Tommy Gun Wizards, reunite for this Must Read supernatural thriller.
Detroit's hardest hitting journalist, Elena Abbott, is trying to make a fresh start at a new newspaper…but her deadly past isn't ready to let go. The city is days away from the historic election of a Black candidate as their new Mayor, but a vicious new group has emerged to destroy him, targeting anyone who supports his campaign or the change he represents.  That means Abbott, who discovers the group's connection to a dangerous dark magic, has been targeted for certain death – unless she embraces her true power as the Lightbringer to save her city."
Damned Cursed Children #1
Vault Comics
Small evil children haunt me and creep me out. They're the next creepiest thing behind my fear of clowns. So this might end up being a great and creepy horror book.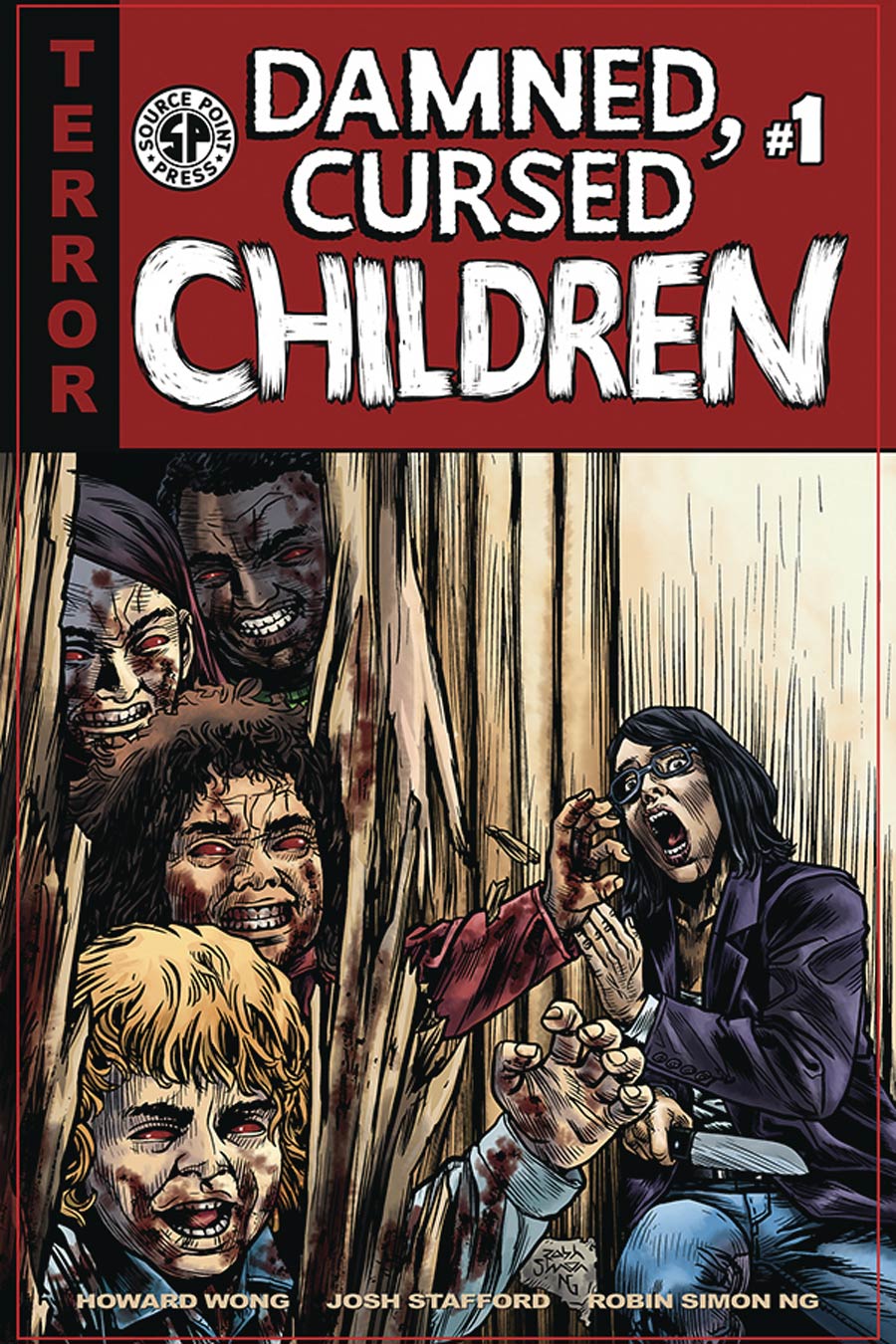 "In the sudden aftermath of a series of horrifying attacks, a group of strangers are forced together in a city gone mad. How many will overcome every human instinct, and do the unimaginable to survive in a world with Damned, Cursed Children?!"
The Resistance: Reborns The Mad One-Shot
AWA
Resistance Reborns Oneshot #1 (Cover B – Deodato Jr)
For those who were on the Resistance bandwagon won't want to miss this followup One-Shot from AWA.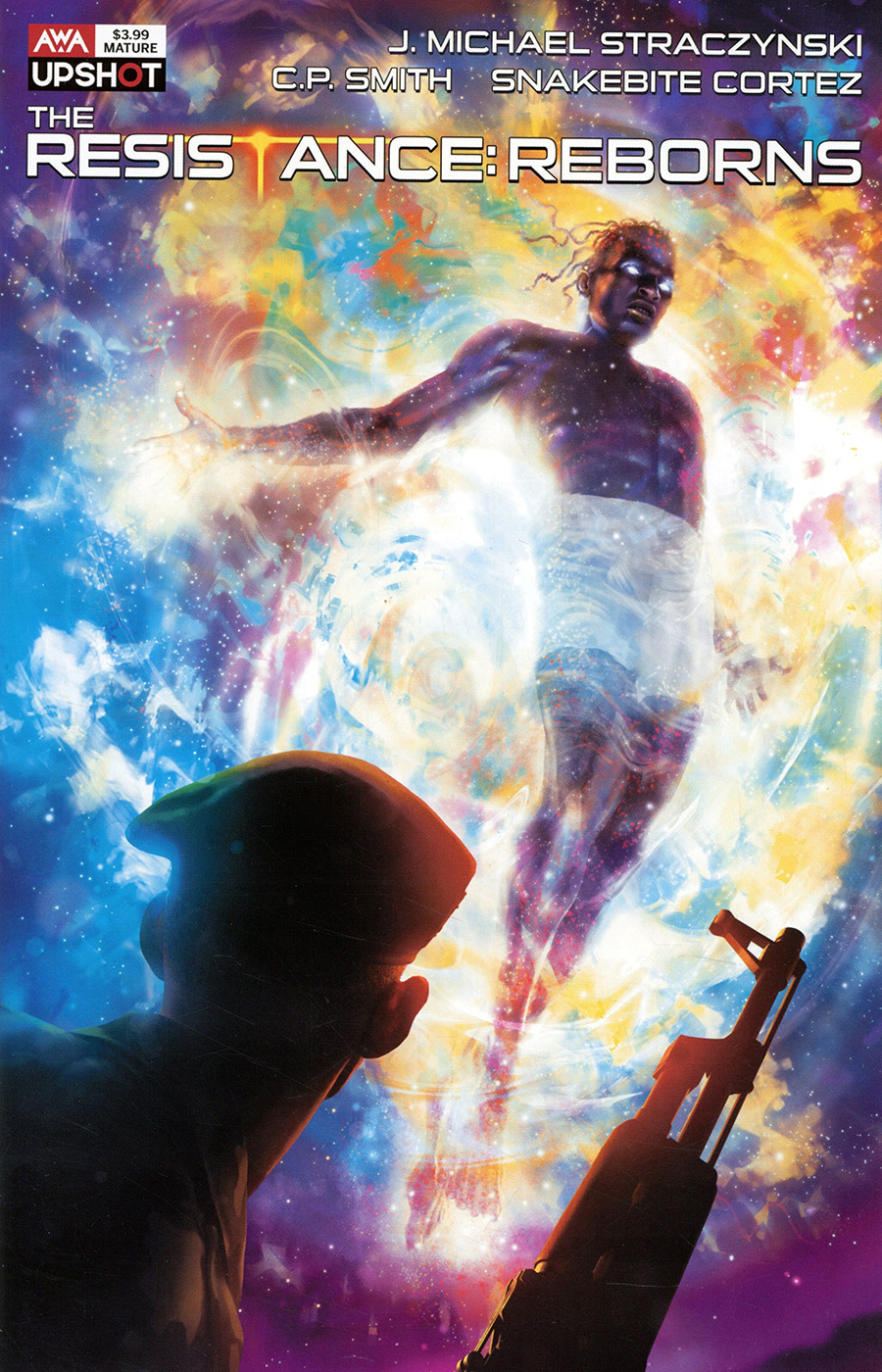 "Stemming from the pages of the hit series, The Resistance, The Resistance: Reborns explores the origins of the newly super powered humans after a global disaster leaves hundreds of millions dead in its wake, causing a few thousand to suddenly manifest superhuman powers. This special collection explores the origins of five characters in this new universe of heroes and villains including The Mad, the Dangerous, The Hidden, The Lost, and The Transcendent. Writer J. Michael Straczynski (Thor, The Amazing Spider-Man) returns to the world of The Resistance, this time joined by artist C.P. Smith (Archangel 8)."
Sengi and Tembo #1
Scout Comics (Scoot)
It's Scouts new Scoot Imprint. I don't care if it's for the kids, I love it. Plus it's kid priced at just $1.99.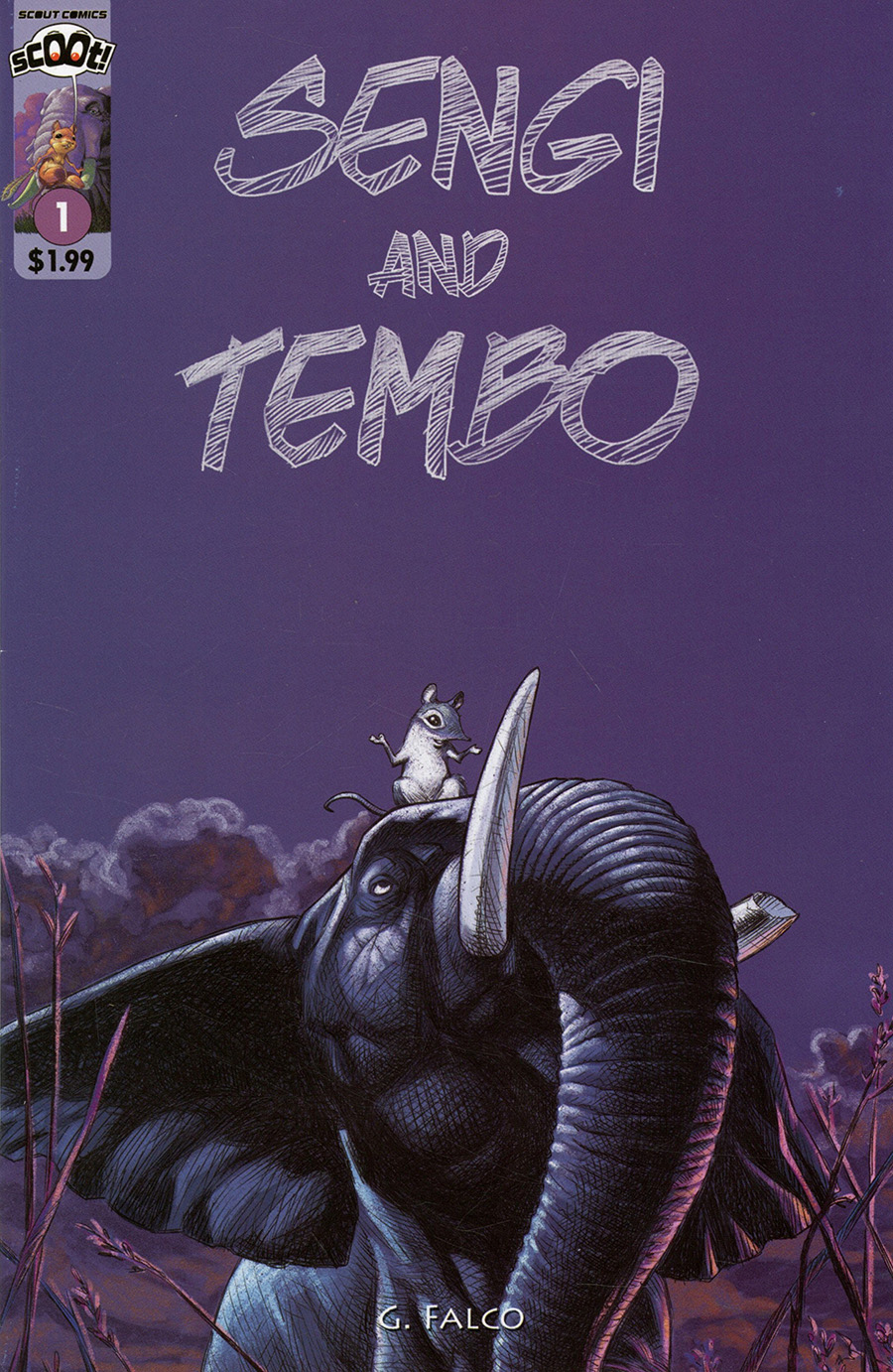 "SCOOT! IMPRINT: The African savannah, a windswept expanse of tall grass, a few all-too-rare trees, overwhelming heat… and more than a few hungry predators. Sengi, the little mouse, finds himself alone after the death of his mother and must learn to survive. Tembo, the old elephant, feels that his life is coming to an end. So he decides to leave his herd to try to reach the 'Land without beginning,' a mythical place accessible by a secret passage to the west. For a few days, these two disparate lives, that of the pragmatic mouse and the even-tempered elephant, will collide and join paths. Their futures will be changed forever. Enjoy the first issue of this NON-STOP! title followed by the entire story collected soon after in one volume."
Serial #1
Abstract Studios
You Terry Moore fans probably already got this on the pre-order list. It's a must pickup for you Rachel Rising and 5 Years fans.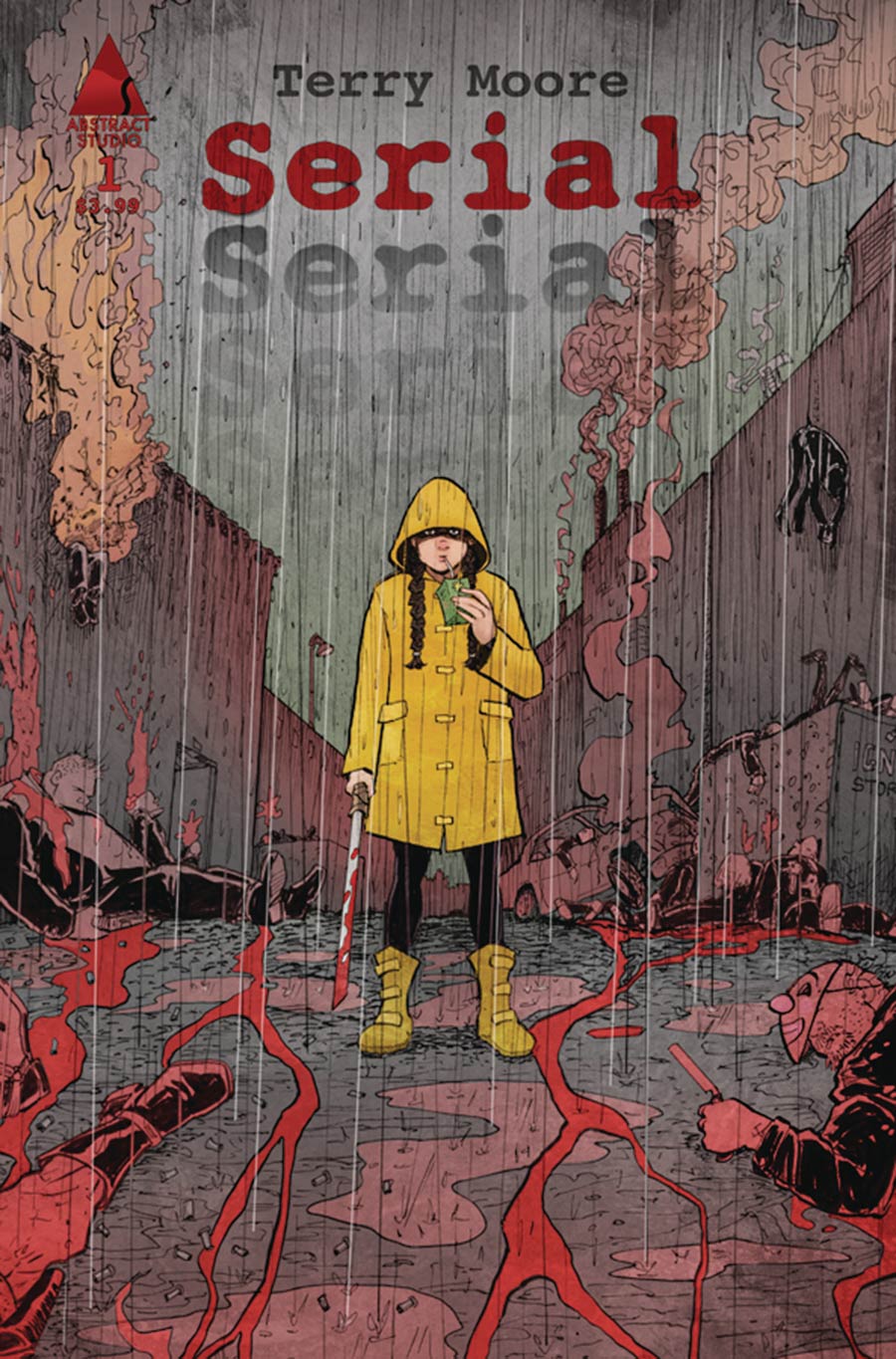 "Zoe has been 10 years old for 50 years. Most of her life has been spent on the run fighting the demon that lived within her, kept her young and turned her into a serial killer. Now free of the demon, Zoe discovers her childhood friend is the latest victim in a string of murders. Determined to put an end to the reign of terror, Zoe uses her own deadly skills to stalk the predator and avenge her fallen friend. Serial is Terry Moore's new series featuring Zoe, the irrepressible star of Rachel Rising and Five Years. Don't miss the premier issue of a her solo series!"
Dead End Kids Suburban Job #1
Source Point Press
Dead End Kids is back. This saw some love at one point from the first volume but I won't anticipate it getting hot this second go round. But you readers of the first volume will likely want to pick this one up.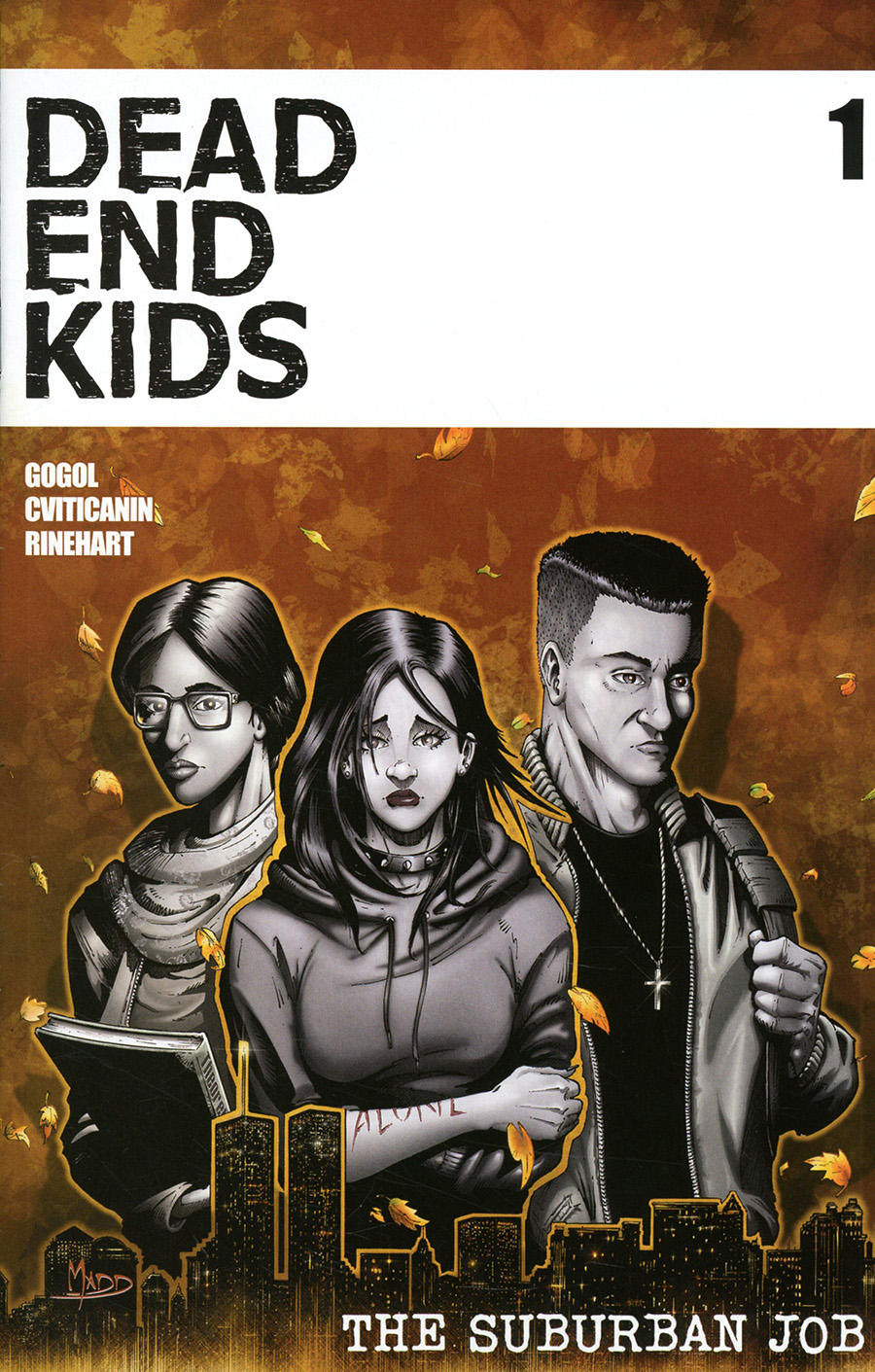 "Seven years after the deadly events of September 11th, three teens struggle with the long-term fallout of that tragic day. But these former friends are brought back together when they find themselves in the crosshairs of a local drug dealer who's out for blood. Can they put their personal traumas aside long enough to work together and survive? No Heroine's Frank Gogol re-teams with Nenad Cviticanin for an all-new entry in the Dead End Kids saga."
Sweet Downfall #1
Scout Comics
I like the style of art and if that is any indication of the style inside and the story is entertaining, count me in as a reader. The style reminds me of the Manhattan Projects, which was simply done and amazing.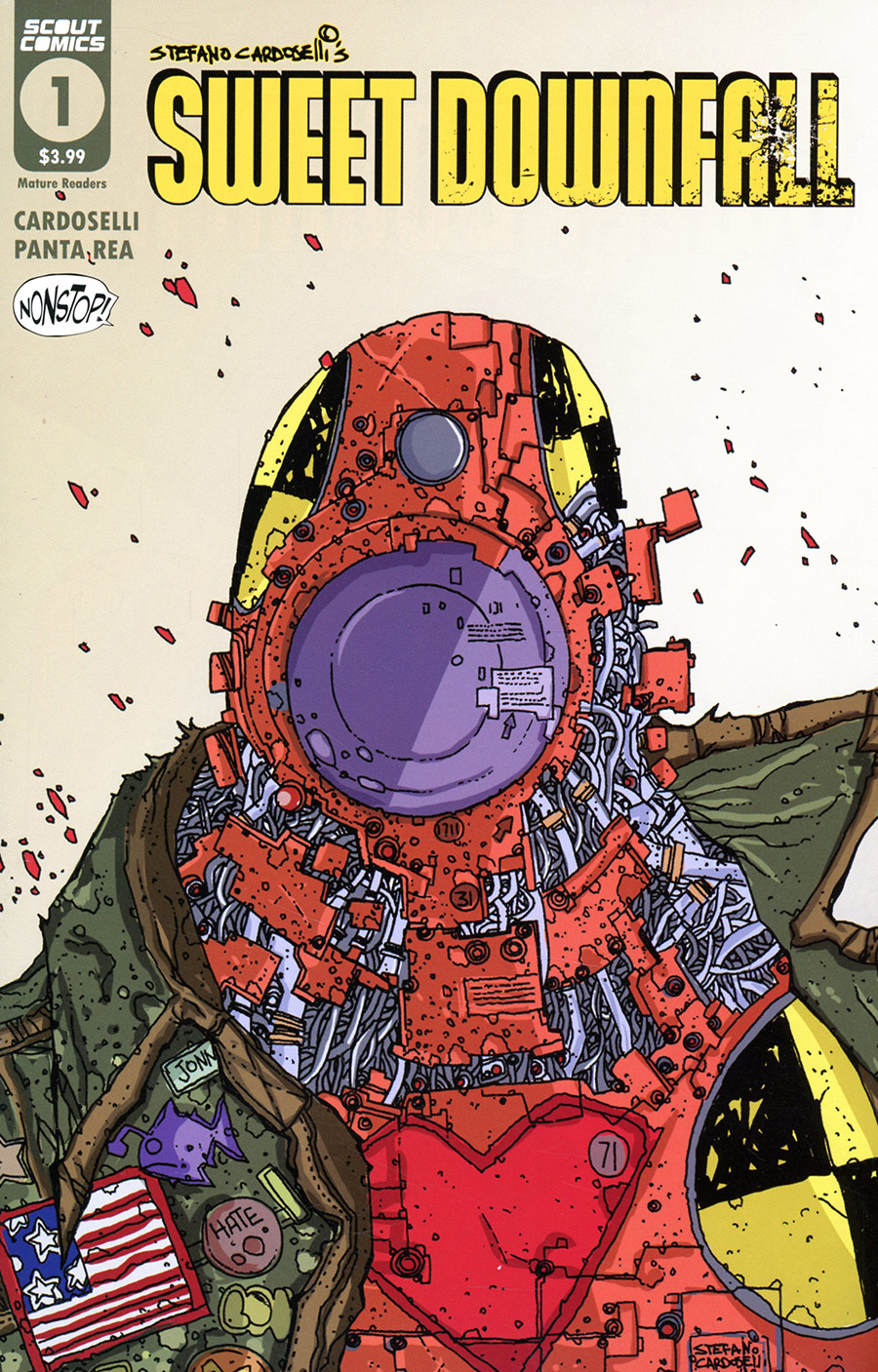 "Jonny is an old-model crash test dummy who's been repurposed as a hitman for the Don Vito Coriaci of sprawling ocean bound city-state Santa Clara City. Jonny loyal and follows orders to the T, until his latest mission – when he's tasked with bringing in a mermaid, a delicacy with healing properties When Johnny falls in love with the mermaid and decides to save her, the chase is on through crumbling skyscrapers and colossal cyber-angel statues – in a hailstorm of lead, breathtaking pursuits, and Mexican standoffs. Enjoy the first issue of this NON-STOP! followed by the entire story collected soon after in one volume."
Mann's World #1
AWA
Mann's World #1 (Cover B)
The premise for this one isn't anything new or groundbreaking but we humans can never get enough of these stories where humans must band together to survive..  or not!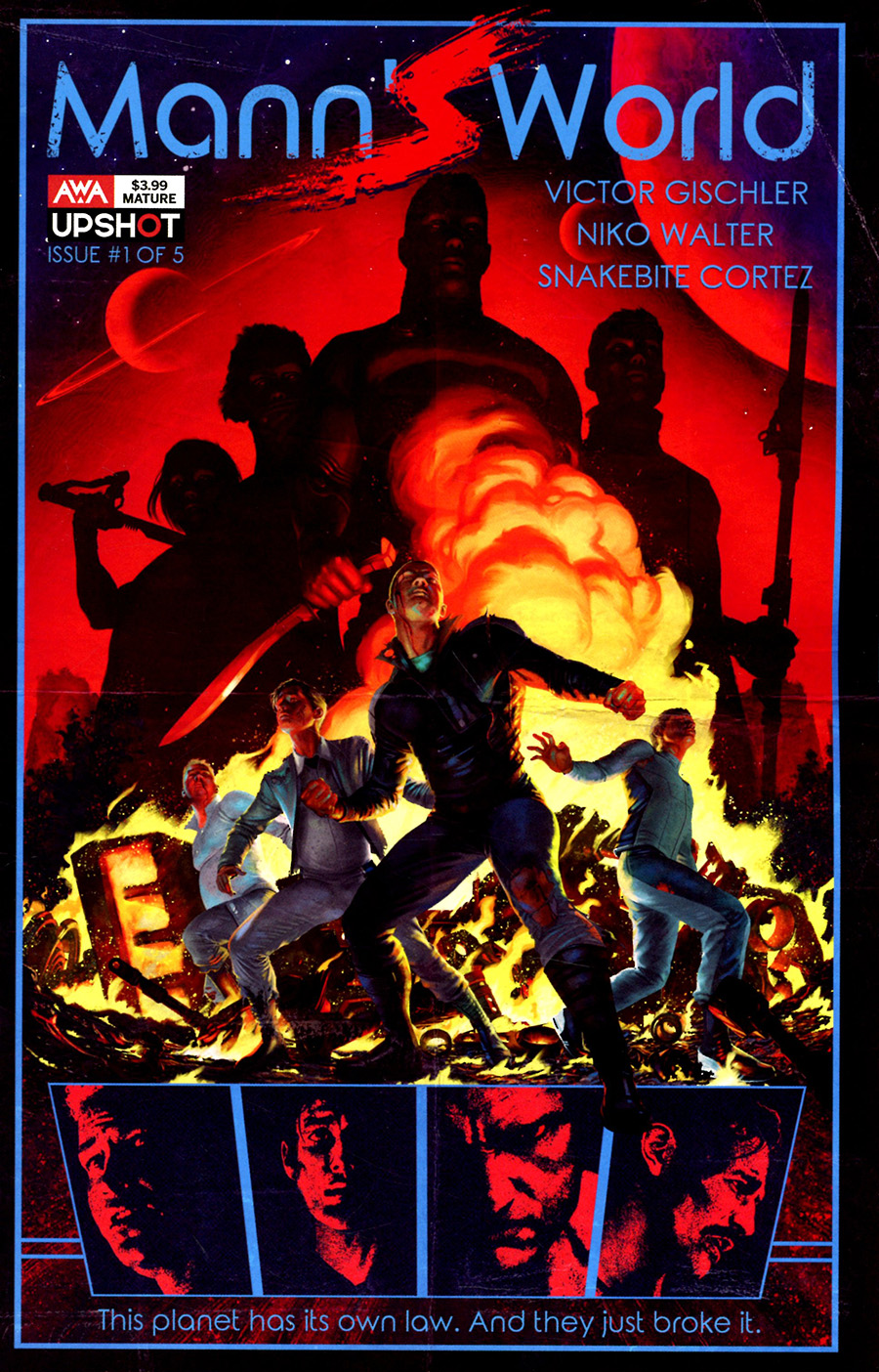 "A weekend getaway on a resort planet goes south when four friends run afoul of the planet's working class. Stranded in the wilderness of a strange planet, surrounded by danger on all sides and relentlessly pursued by vengeful locals, they must test their bonds of friendship in order to survive."
Eighth Immortal #1
Source Point Press
Eighth Immortal #1 (Cover B – Bifulco)
This one I'm still up in the air over. It seems interesting but not enough for me to actually pre-order. Might be one I have to check out first in person before handing over my dollars..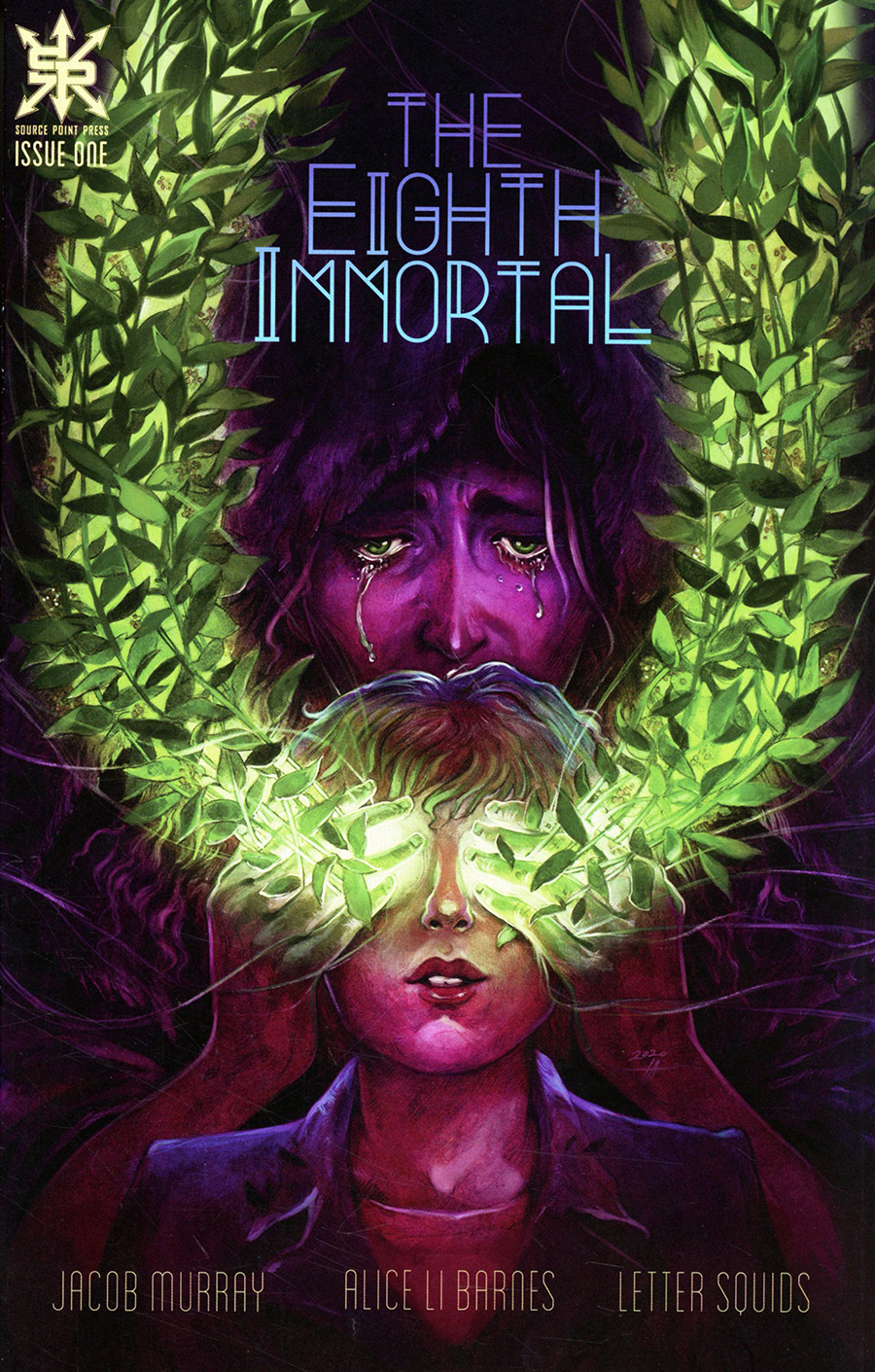 "Curipan has spent her immortality protecting humanity from the threat of an ancient prophecy. But time and a secret trauma have worn her down, forcing her to choose between her duty and her sanity. The Eighth Immortal is a scandalous fantasy that asks the question, should anything last forever?"
I Breathed A Body #1
Aftershock Comics
I really enjoy most of Thompson's work and being a tech guy, anything that deals with social media and everything that's wrong with it I'm likely going to check out.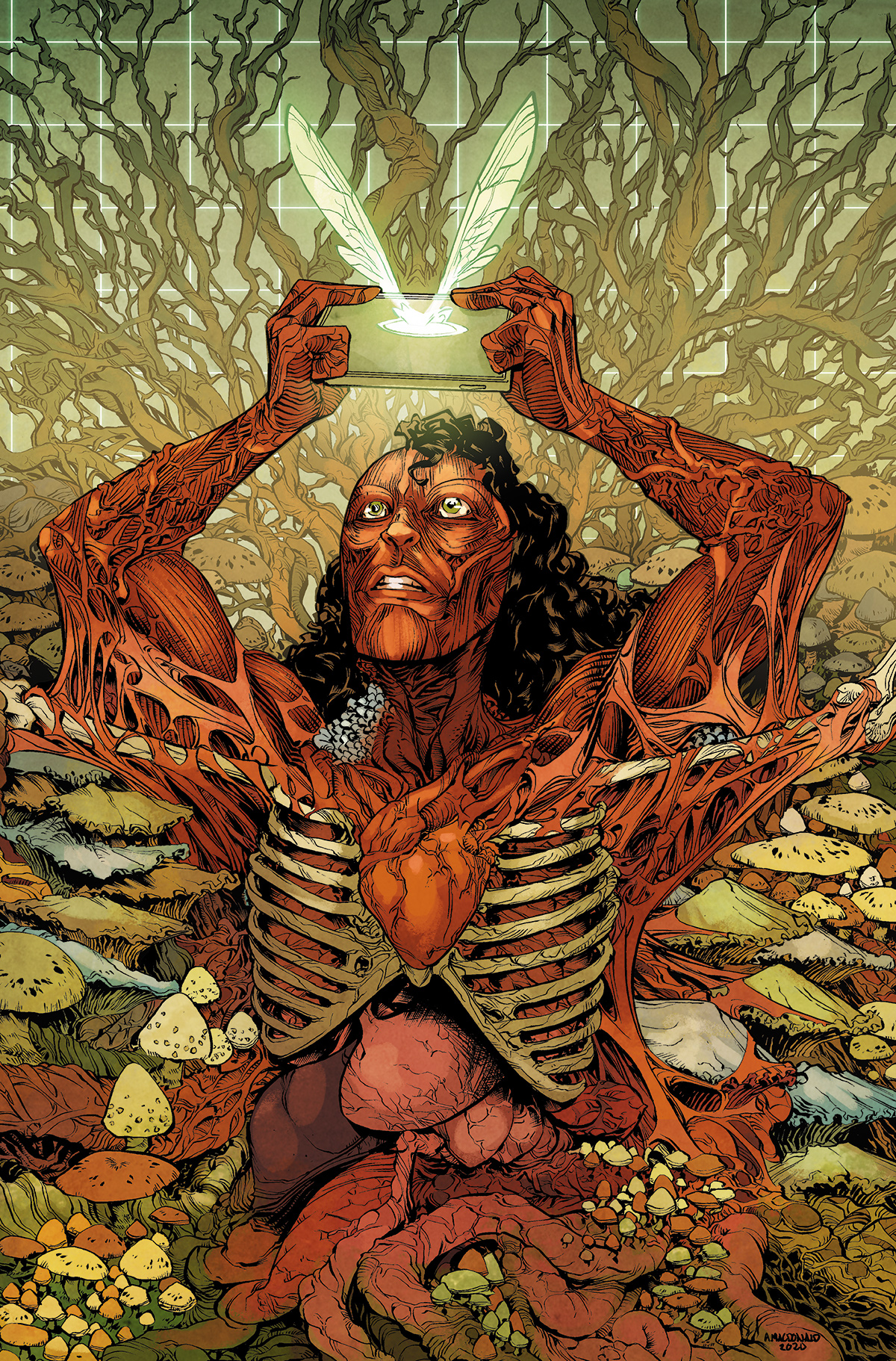 "A science fiction horror series about social media, big tech, and influencer culture. It's The Social Network meets Hellraiser. When the world's biggest influencer posts something irredeemably horrific online, the world changes in an instant. Now it's up to his social media manager, Anne Stewart, to fan the flames of outrage and create a sensationalist campaign that rewrites the rules of 'banned content.' Thus begins a carnival of lust, revulsion, desire, and disgust – all for viral videos.
Written by Zac Thompson (LONELY RECEIVER, UNDONE BY BLOOD, X-Men) and illustrated by Andy MacDonald (Multiple Man, Rogue Planet), I BREATHED A BODY is a horror series about the voyeurism of violence and the Big Tech companies who engineer patterns of fear in society."
Last Witch #1
BOOM! Studios
Last Witch #1 (Cover B – Corona)
Nothing groundbreaking with this next book except the normal fantasy driven story of discovery and rescue. I think if Corona's doing covers for each issue, might interest more as I really love his cover art after his run on Middlewest.
"Featuring a cover from Middlewest's Jorge Corona, for fans of Wynd in the same oversized format comes an all-new modern fairy tale from Conor McCreery (Adventure Time/Regular Show) and V.V. Glass (Doctor Who). It's the one time of the year when the witch known as Cailleach hunts the children of the village – so Saoirse, a brave and reckless young girl, decides this is the perfect opportunity to defy her father and discover the secrets of the witch's tower! But when the Cailleach captures Saoirse and her brother Brahm, their lives are forever changed in ways they never expected. Now, Saoirse will have to save everyone she loves by discovering the truth about the mysterious mark on her shoulder – and embracing her secret magical powers!"
Stake #1
Scout Comics
This was a Kickstarter which is now a Scout comic. Peach Momoko even did a great cover for the Kickstarter, which might see some more love after this is released as it already sells very well on the secondary market.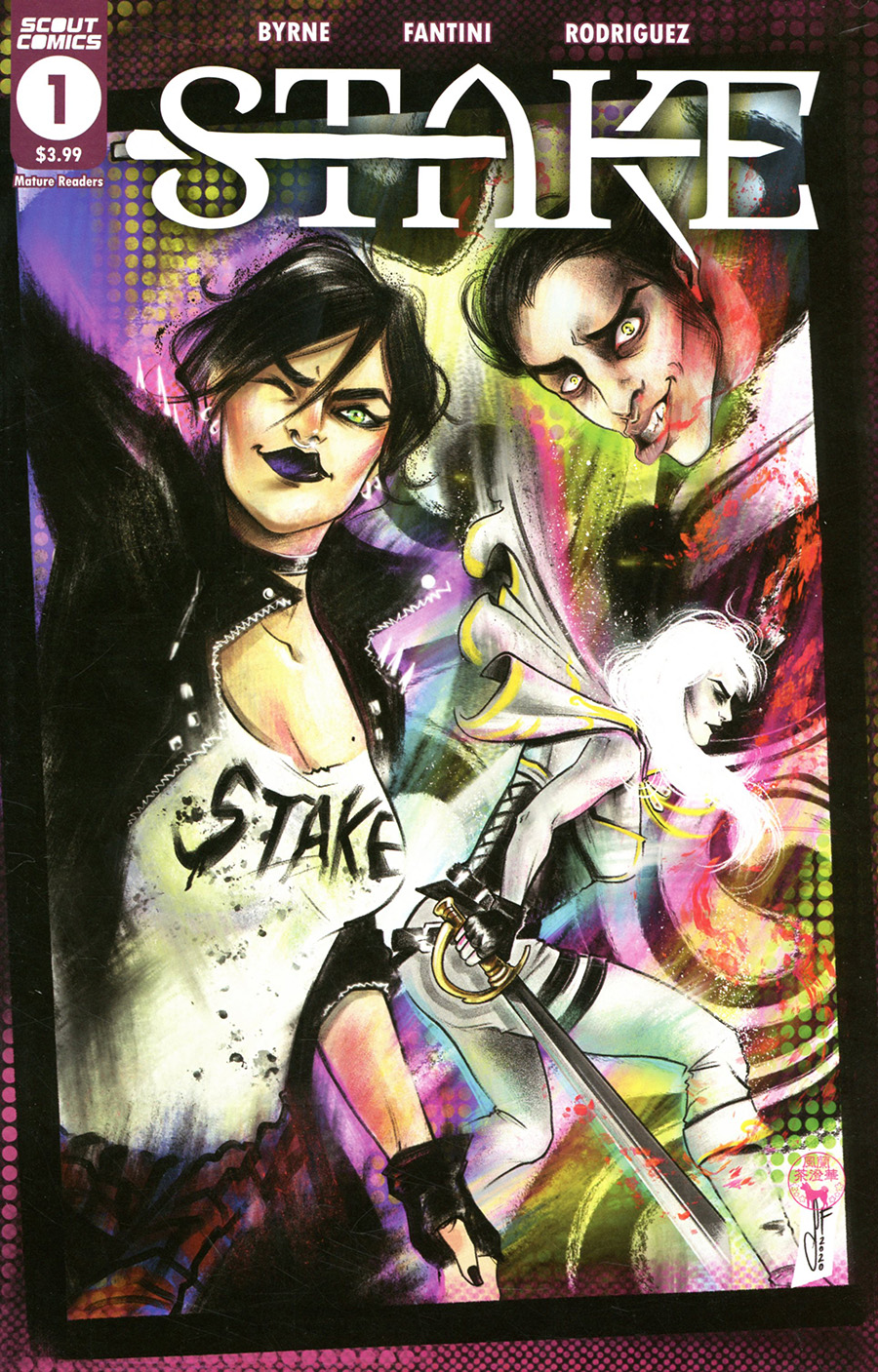 "Three years ago, Vampires announced their presence to the world in grand fashion; in one instant, Angel lost her two best friends and her existence changed forever. Now, as a member of the Vampire Bounty Hunter Union, and with the help of her ancient vampiric mentor Jessamy, she's out to track down the bloodthirsty monsters who destroyed her life. She is… Stake."
Ninja Nuns Bad Habits Die Hard One-Shot
Scout Comics
For the MetalShark Bro fans. Plus it doesn't get any better than nuns who are ninjas with swords right?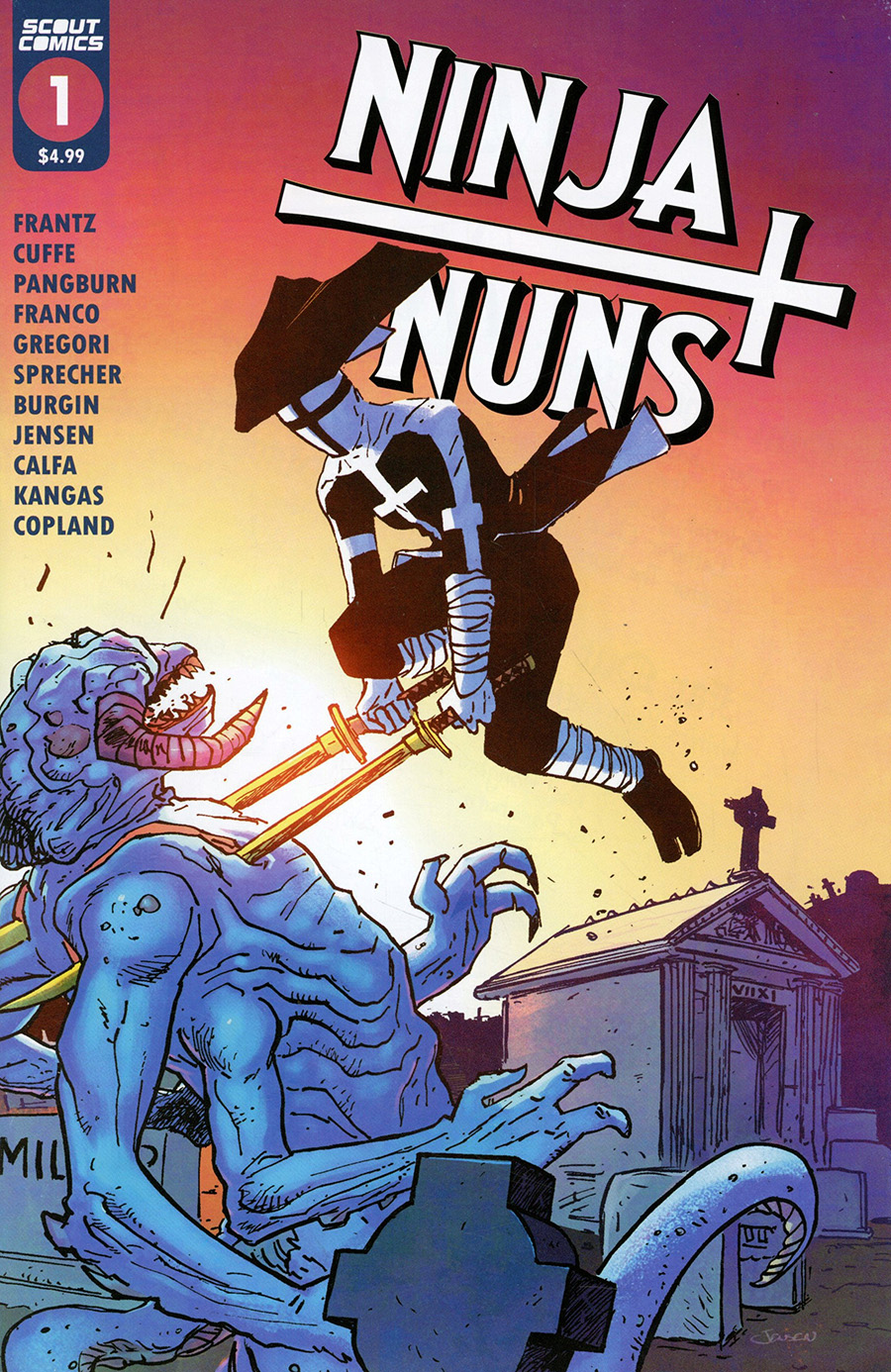 "Did you accidentally summon a vengeful demon from another dimension? Have you recently committed heresy and started a church rave? Did your neighbor gain powers from a noodle god? If you answered 'yes' to one or more of these questions, then you need to pray for assistance from the Ninja Nuns! Rising from the pages of Metalshark Bro, these heavenly sisters star in an action-packed one-shot that hits harder than Sister Mary's ruler across your poorly-behaved knuckles! With interior art by a collection of amazing artists including: John Burgin, Angela Sprecher, Tony Gregori, Josh Jensen, Dann Franco, and Gabriel Calfa."
The 27 Run: Crush #1
Wave Blue World
This is a check it out before buy for me. Might be a fun read, could end up being awfully cheesy, cheesy in the not so good type of way.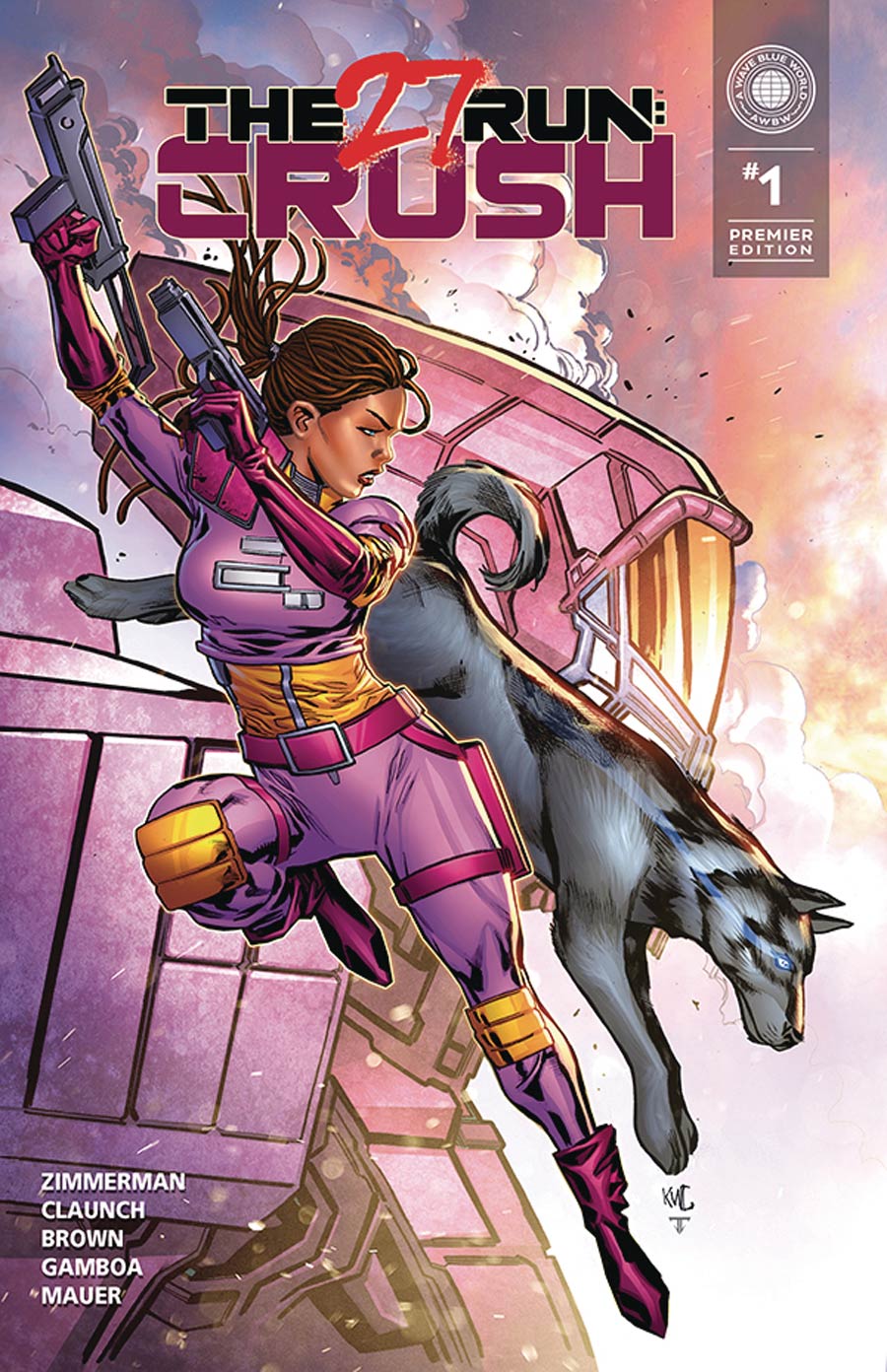 "Humanity's only chance against 27 towering Monsters and legions of voracious Crawlies is the Mech Pilot Beti and a telepathic dog named E.K. But Beti faces an even bigger challenge: the return of a long-lost love! Get ready for an action-packed stand-off that continues the series Steve Orlando (Wonder Woman) calls, 'A wasteland tale energized with dark humor and fantastic creatures.'"
Steambound #1
Behemoth
I like the art style on the cover but the solicitation doesn't really tell me much more so this is another check it out in person before buying. The only problem though is a lot of shops don't order these super small indie books so sometimes the only way to get it is to pre-order. Decisions..  decisions…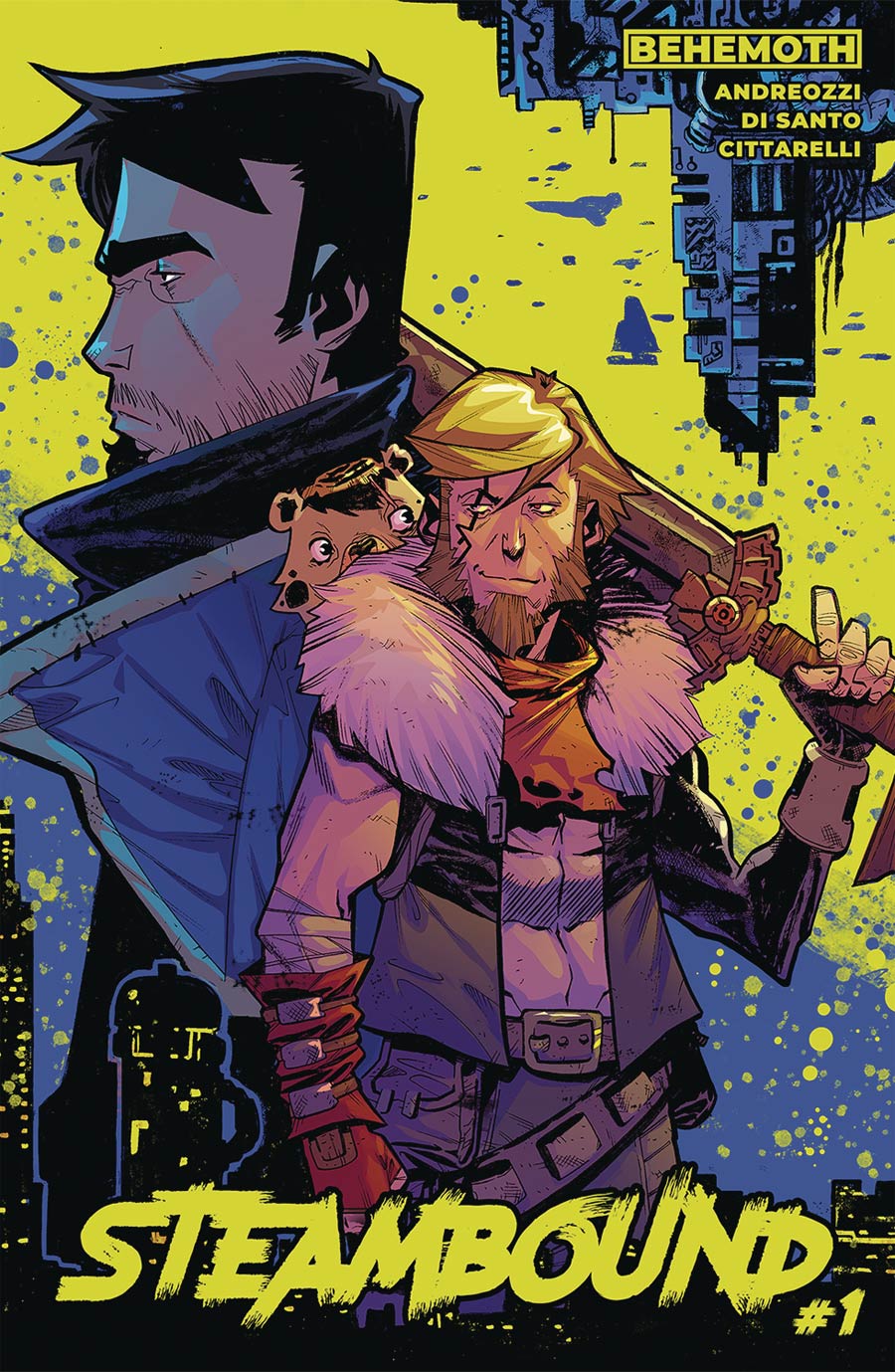 "Pandora. It is easy to get lost on the streets of megacities, like our protagonists, Hound, Yaeger, and Alice have. Raised together and linked by friendship and spider addiction, Hound is a knight of the order's restricted council, while Yaeger, genetically modified, works for the city's criminal cartels. Alice's request for help will force the group to join again."
Cutting Edge #1
Titan Comics
Cutting Edge Devils Mirror #1 (Cover B – Alberti)
Could be a fun book. It's a two issues series so won't break the bank to read the entire story.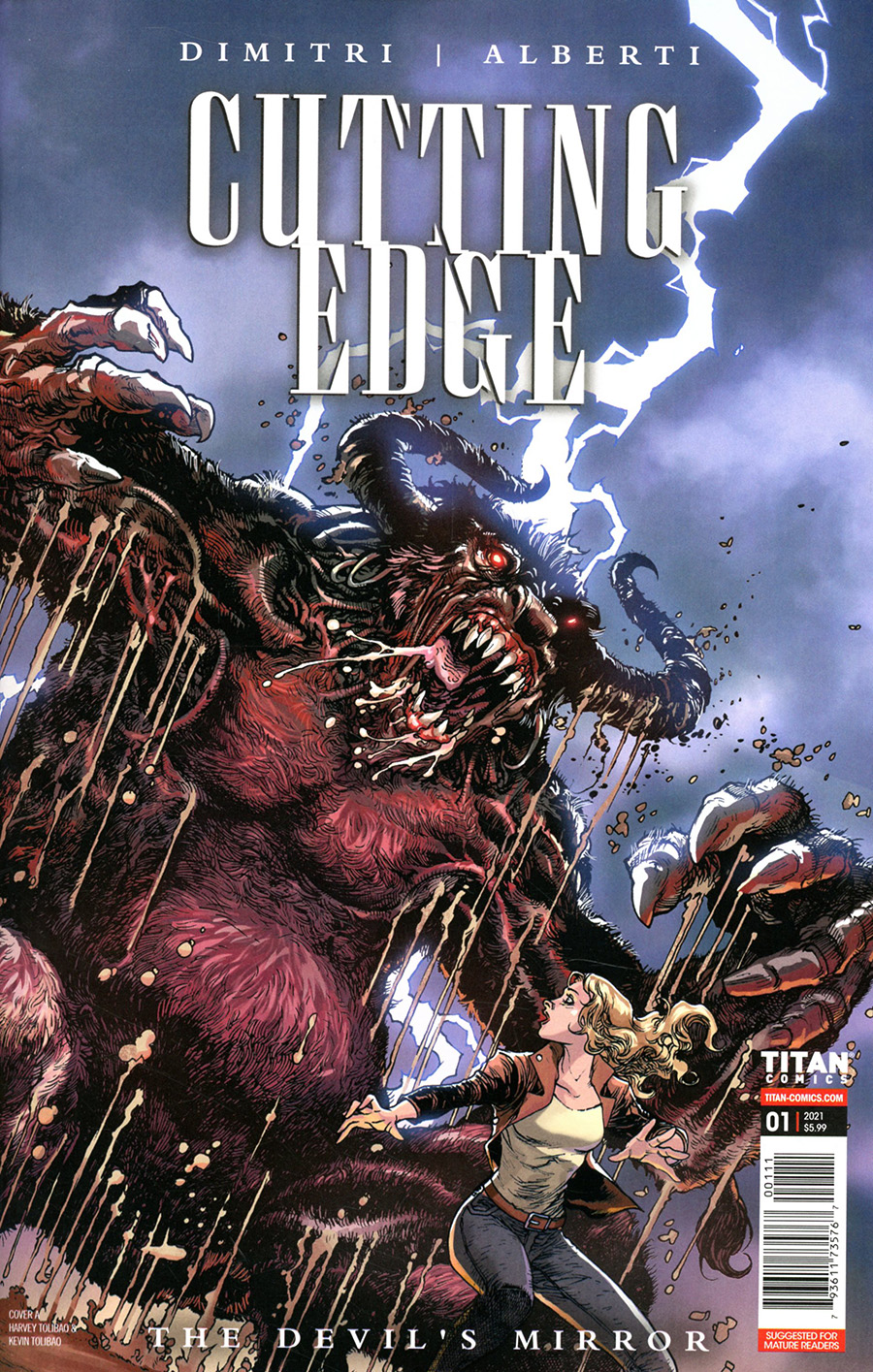 "Tomb Raider meets The Hunger Games in a brand-new series by renowned fantasy author Francesco Dimitri and award-winning Italian artist Mario Alberti. Brought together by a clandestine corporation, the world's greatest scientists, artists and entrepreneurs must unite to solve a mystery of epic proportions! The Dodecathlon continues, but time is running out! The team's last hope is a lost artifact known only as the Devil's Mirror!"
Yasmeen #6
Scout Comics
This is one of my favorite reads this year. It's a must and if you're not reading it, you should be.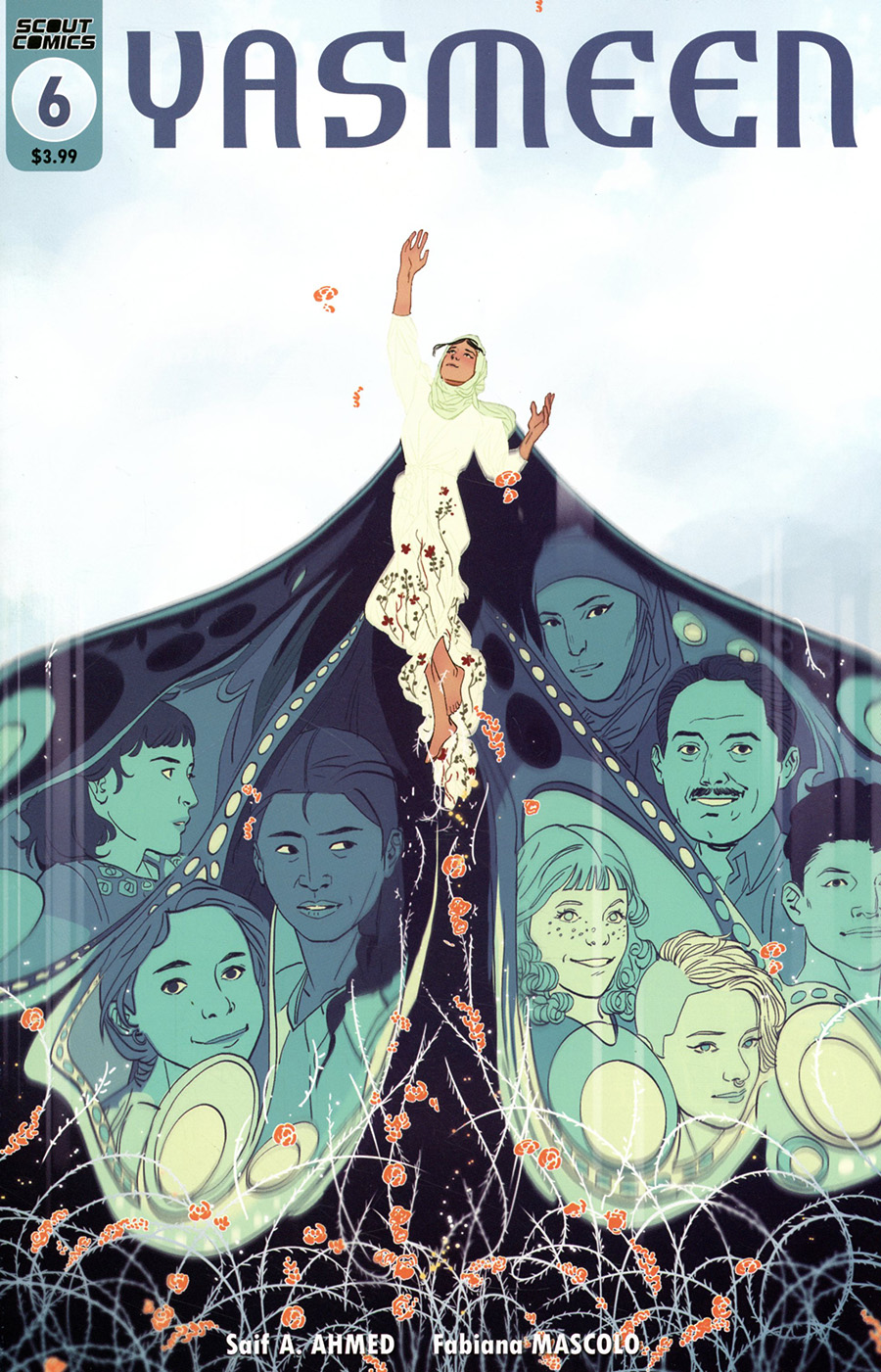 "Past and present clash in the series finale as Yasmeen must find the courage to face her darkest memories during a police investigation into her history. Meanwhile, Wassan forces Khalid to listen as she tells him about what Yasmeen had been through in Iraq, prompting Khalid to reveal a dark part of Yasmeen's survival story. "
Ascencia #1
Wake Entertainment
Ascencia #1 (Cover B – Ben Oliver)
This one has me the most excited out of the small indie books. Yes, it's another dystopian type future story of survival to reach the high ranking class of the privileged (this one just happens to be immortality as the reward) but we love the rags to riches type of plot line.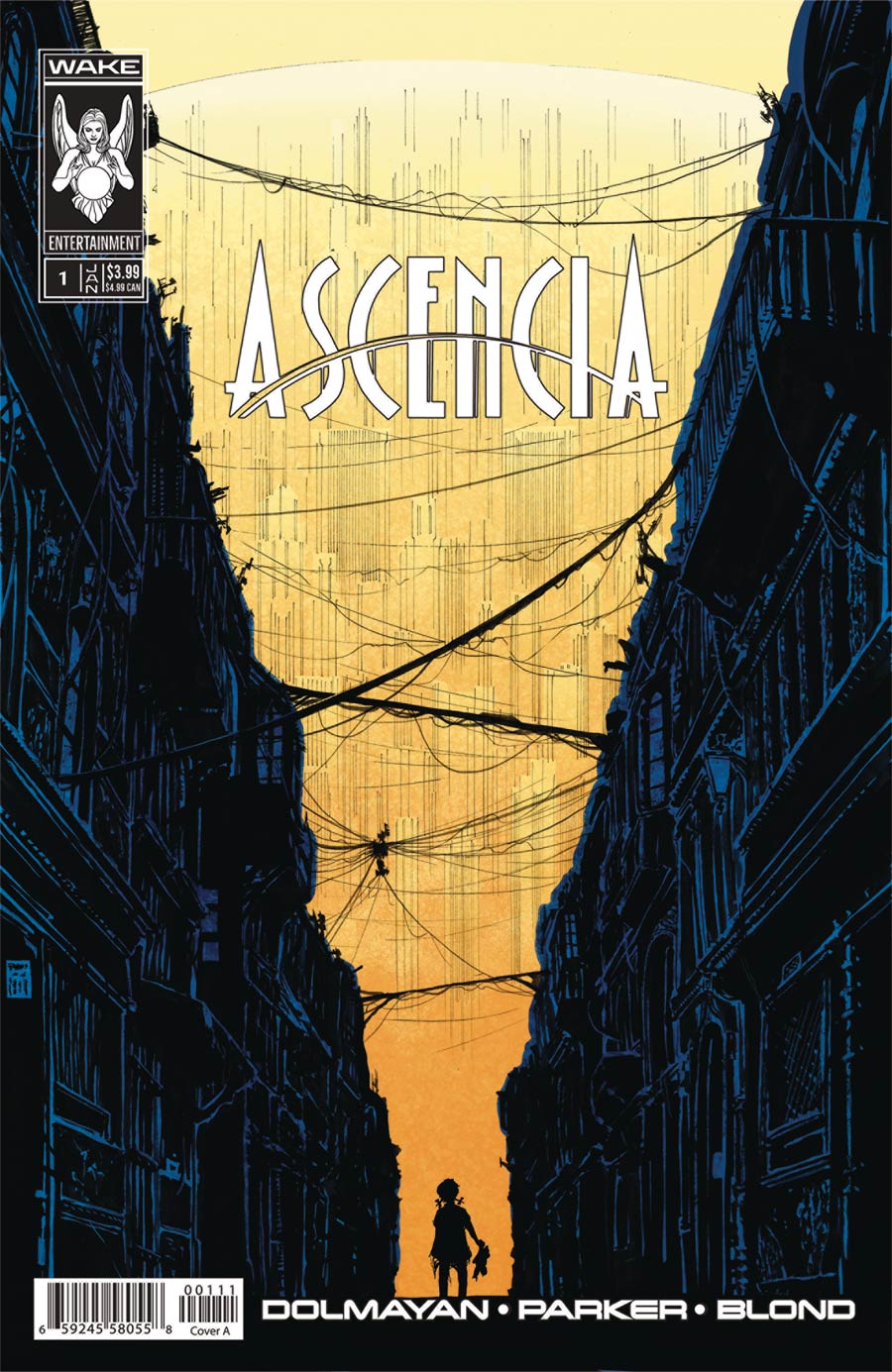 "It is 150 years in the future, the city of Ascencia towers above its sister city Bethany in perpetual dominance. The city of immortals, a power resides in Ascencia coveted by all but accessible to few. This is the story of what one would do to become immortal. Who they would abandon. who they would betray. And ultimately what price they would pay to remain in Ascencia. Leave space for a 2-column spotlight"