Every week, hundreds of new books hit the stands, each with potential. We pick the ones we think have the best shot at heating up. Here are the picks of the week for delivery 4/28/21
Returning Favorites
Cold Dead War #2 – first one did well one the secondary market. Second issue should be harder to find. Plus, it continues George Romero's legacy with zombie stories. Check Mycomicshop tonight if you are looking for it.
Department Of Truth #8 – just a great series. Fun read. I have gone and googled some of the conspiracies Tynion has talked about.
New #1's
Robin #1 – First appearance of a new character named Flatline, who may be the series antagonist. There is also the Team Cover and the Incentive Riccardo Federici Cover worth looking for.
The Marvels #1 – Kurt Busiek is back, with the biggest, wildest, most sprawling series ever to hit the Marvel Universe, telling stories that span the decades and range from cosmic adventure to intense human drama, from the street-level to the cosmic, starring literally anyone from Marvel's very first heroes to the superstars of tomorrow. The 1:50 Dell Otto is the winner of the week if you can get it, with sales up to $194 in pre-sales.
Summoners War Legacy #1 – Based on a video game, this could have some cross-over sales potential. Skybound dives into the wondrous world of Summoners War, the popular mobile game where magical monsters are summoned in a never-ending battle of good vs. evil! Rai knows there's only one way out of her nothing town-to become a summoner! But when she's recruited by Abuus Dein as an apprentice, she embarks on the adventure of a lifetime and is thrust into a war for the fate of the world.
Snatched #1 – New Scout Comics book. From the favelas of Central America, all the way to the scalp of your favorite A-List actress or IG Crush (you know the one I'm talking about), Snatched is a hardcore voyage into the bloody, treacherous, violent, unfiltered, uncompromising, and always unforgiving world of human hair trafficking. Following three parallel storylines, Snatched examines how racism, misogyny, and unchecked capitalism lead the pursuit of one of the world's most visible and lucrative, yet unspoken commodities: hair weave. If you thought the drug game was deadly, wait until you see what goes down in the hair trade.
For the Cover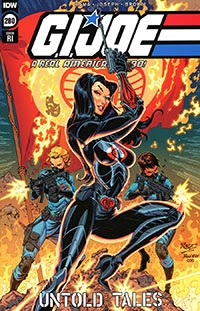 GI Joe A Real American Hero #280 John Royle Variant Cover – Cool JSC looking Baroness cover by John Royle. None on eBay right now. Sales as high as $15.00 in the past two days.
Notable Reprints
Nightwing #78 Cover C 2nd Ptg – DC 2nd prints do not always hold value, but I have done well selling the first print so will pick up a copy or two.
Geiger #1 2nd Ptg – Another book I have sold well is Geiger. Sold multiple regular covers and some glow in the dark ones. Will pick up a 2nd print for the set. There is also a Gary Frank Variant Cover that has been selling for around $50 if you can grab one cheap.
Shadecraft #1 2nd Ptg – great second print cover. Better than many of the first prints. The book was optioned before release so it is a good hold.
Alien #1 2nd Ptg – Cool Larroca cover for this reprint. But like some of the others, there is also a 2nd Ptg Patrick Gleason Variant Cover that is the bigger news. It is selling for $50-$65
One to Watch
Black Widow #6 – New sidekick character joins this issue. Sold out in many places online. The regular cover has already had one high sale of $19.99. Introduces two brand-new characters. There is also an incentive 1:25 Rahzzah selling for $50 and up. Check Mycomicshop.com tonight for this one.
Small Press Gem
20 Fists #1 – New Source Point Press book that is getting a lot of attention. Not many on eBay and once that $6 goes, the only other listings will be in the $30 range.
Small Press Pick of the Week
Something Is Killing The Children #1 8th Ptg – Prices are all over the place on this one. Highs of $69 just 14 days ago. Now listings in the $20-$30 range. But still. If you can get these flip a couple, and set one aside for yourself to hod for later.
Pick of the Week
BRZRKR #1 3rd Ptg Dan Mora Foil Variant – Even with the under cutters setting in, there are still sales on this one as high as $152.50 yesterday. Yes, boom mentioned allocation and a 10,000 copy print run and people went nuts. Anyway, still worth picking up if you can grab it for $4. There are also some secret variants out for Issue #2 you should try to keep an eye out for.