Every week, hundreds of new books hit the stands, each with potential. We pick the ones we think have the best shot at heating up. Here are the picks of the week for delivery this Wednesday

Here we are, the last New Comic Book Day of 2021. It has been slow the past couple of weeks. Bright spot has been Odinn's Eye #1 from Bad Idea, which is selling in the $35 range. It's a $10 cover price and was part of the Final Five pack. Anyway, here is what is on tap for this week:
Returning Favorites
Good Boy #2 – Second issue of this John Wick anthropomorphic series.
New #1's
Swamp Thing Green Hell #1 – New Jeff Lemire Black Label Swamp Thing book that just looks fantastic. The Earth is all but done. The last remnants of humanity cling to a mountaintop island lost in endless floodwater. The Parliaments of the Green, the Red, and the Rot all agree: it's time to wipe the slate clean and start the cycle of life over again. And to do so, they've united their powers to summon an avatar—one of the most horrific monsters to ever stalk the surface of this forsaken planet. Against a creature like that, there can be no fighting back…unless you have a soldier who understands the enemy. Someone who has used its tactics before. Someone like Alec Holland. Of course, it would help if Alec Holland hadn't been dead for decades…
Blood On Sunset #1 – Vampires and Mobsters from Source Point Press.
Knight Janek #1 – New Behemoth series worth taking note of.
Power Rangers Universe #1 – I know not many may care about Rangers' books. But there is a legion of fans out there. They let the secrets of the Phantom Ranger out and fans will probably want to see it
Rise Of Dracula #1 – New Vampire book and sequel to Cult of Dracula, which has been optioned.
Mega #1 – Kaiju (Giant Monster) book from Red 5. High cover price but still sold out at Midtown. Keep an eye out for this one. Low print run indy book with a high price point, and sold out at the bigger shops.
For the Cover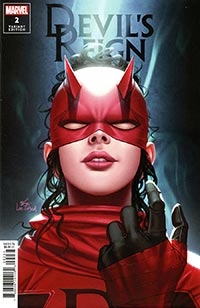 Devils Reign #2 – I just really like this Elektra/Daredevil cover by Inhyuk Lee.
Small Press Pick of the Week
Stray Dogs Dog Days #1 – This one will not be sneaking up on anyone. One of the hottest series in 2021, tons of store variants, but with Image's "no second print" rule, if and when a sell out occurs, this could be a good book to have. Cover A and the Horror Movie Homage are the way to go.
Pick of the Week
Timeless #1 – New Marvel event book featuring Kang. A bit of buzz behind it. Spoilers tonight. Almost no copies of the Ramos Variant (Ms Minute cover) and hitting $20 on eBay as of today.