Each week, hundreds of new comics hit the shelves, each with potential. Some live up to that potential. We pick the ones we think have the best shot at heating up. Here are our picks of the week for delivery 5/16/18:
Not a huge week for spec, but these are the weeks where books sneak up on ya. I know next year at this time Shaun B., the One Year Later Investigator will be nailing me for the picks. But, I am not in charge of the release schedules. And, in a month that has a fifth week Wednesday, May could turn out to be the weakest month of the year. I can say I am not really excited for anything coming from Marvel, and only one book from DC. With that all being said, here is the best of the books out this week.
New #1's
Ether Copper Golems #1 – New Dark Horse series by Matt Kindt. Matt has gotten optioned before for Mind MGMT, worth keeping an eye on. Also features a Paul Pope Variant.
New Challengers #1 – Scott Snyder's new DCU book. Snyder rocks. Worth the look, Snyder does a lot of Midtown signings, so I am hoping this will show up as a signed edition in a few weeks.
Walk Through Hell #1 All-Black Shock Cover – Get gloves to handle this one. The book is a new Garth Ennis comic, which I always like, and an impossible to keep clean all back cover. Get a regular cover for reading.
The TV Tie-ins
Mighty Moe Szyslak One Shot
– Simpsons' one shots are great pickups. Throw in so me Hulk homage to the cover and it makes for a must get for me.
Mighty Morphin Power Rangers #27 – Loving the shattered grid cross over. It has put the Power Rangers books on it's ears. Looking forward to see what happens here.
Small Press Gem 
Jazz Legend #1 – Scout's new comic. Pretty awesome over all. We previewed this one a few weeks back. Great first issue. Mixing HP Lovecraft elements into crime noir.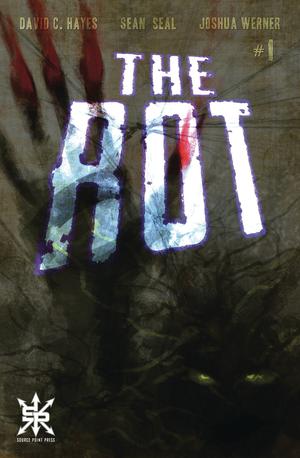 Small Press Pick of the Week
Rot #1 – Very small press, horror book. Looks and sounds cool. The true stand out in this week's field of indy comics.
Waking up in a field, the thing that used to be known as Dwight Cochran rises. His memories vague, his body weak, he finds strength and lucidity after 'feeding,' stealing the life force of living things through prehensile dead tissues in his hair and nails. His memories return… of his work as a contract killer, his time on death row, his terminal cancer, and his zealous faith. When a maniacal government scientist performed experiments on Cochran for the military, what did they create? And how much destruction will their creation leave in its wake?
Pick of the Week
Bubba Ho-Tep And The Cosmic Blood-Suckers #1 – Are you an Evil Dead fan? Love Ash? Years ago, Bruce Campbell starred in Bubba Ho-Tep as an aging Elvis that had to fight mummies. Awesome cult classic. Well, now it is getting a comic book, and Elvis is fighting Alien Vampires. I am excited for this one.

That is it for us this week, let us know what you are speccing on. No New Comic Spec Review video due to baseball and Mother's Day, but I will be back next week with an all new one.