Each week, hundreds of new comics hit the shelves, each with potential. We pick the ones we think have the best shot at heating up. Here are our picks of the week for delivery 7/4/18:
The One That Has The Internet Mad
Batman #50 – Man, if you haven't heard the spoilers and are looking forward to the wedding, and believed all of DC's marketing material on the wedding of the century, you are gonna be mad.
Killer B's
Catwoman #1 Artgerm cover
– He does not phone these in. Word is there is a new villain in this issue. Picking one up for the personal collection.
Deathstroke #33 Mattina cover
– Great looking cover that is worth the grab.
Captain America #1 Adam Hughes B Cover
– A killer B from Marvel…. Wow. Hughes does more than just beautiful women in his artwork.
The Not Safe For Work One
Unnatural #1 Milo Manarra variant – Could be worth the grab. This is an odd book and not sure many stores will order them for the shelf. But, retailers have known about this for quite a while.
Because It Is Mattina
Spawn 287 Mattina Cover – The man is meant to draw Spawn, his covers have been awesome. There are a lot of Mattina's on the list. Unsure if this is my first or second favorite. It is a great cover.
The Marvel to Buy
Cosmic Ghost Rider #1 – This will not sneak up on stores like Thanos did, but it is still the Marvel book of the week for me. Donny Cates continues the Thanos fan favorite character.
The Marvel Variants
Death of Inhumans #1 Character design variant
– Heating up in the later part of the week. Grab and flip if you can find cheap.
Doctor Strange #3 Luppachino Captain Marvel cover
– Back before her current style, Captain Marvel was a stunner. Not liking the Miley Cyrus look she sports today. This one is just a beaut.
Small Press Gems
Elvira #1 – Joseph Michael Linsner captures Elvira in all her glory. I have long been a fan of hers, and her talents, so I cannot pass this up. There is a virgin variant of this one as well.
Project Superpowers 0 – This book has a Mattina regular cover, and it is a dime, so what do you have to lose on this one. Don't pay too much if you shoot for the higher ratio virgin variant.
Submerged #1 – selling out online. New vault book worth the look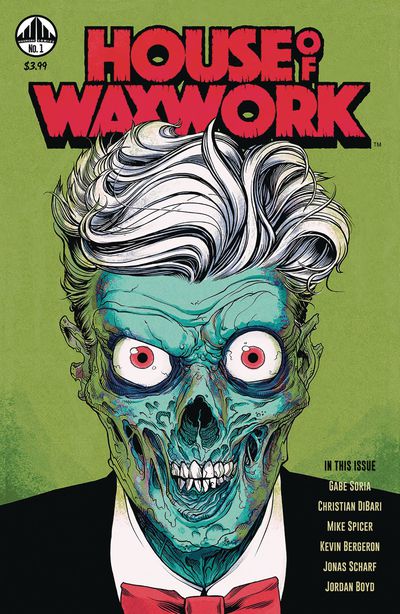 Indy Pick of the Week
House of Waxwork #1 -great looking indy horror book. Has a music tie in with a limited edition inch vinyl that can be ordered as well.
Pick of the Week
Nightwing #46 Ben Oliver Cover
. – Winner of the crop of Killer B covers out this week. Selling for $9-$13 already.
And in case you didn't see it, here is this week's New Comic Spec Review Video for 7/4/18: