Spiderman Into the Spiderverse is an incredible movie. I finally got to see it on New Year's Eve with my son Joe. The mashing of multiple versions of Spider-Men (and Women) was a blast and set the collecting world on fire. Miles Morales, Spider-Man Noir, Peter Porker, Spider-Man 2099 (the after credit scene is a blast, will put it at the bottom if you haven't seen it), and Spider Gwen all got boosts to their first appearances as a result. But, was there a time that Spider-men from all over the multi-verse got together before? 
The answer is yes. The Spiderman the Animated Series did it first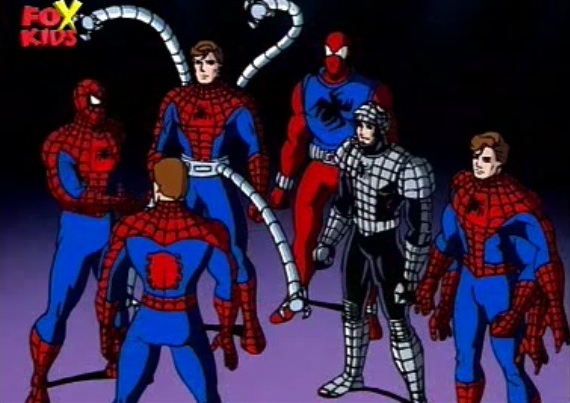 In season 5 of the Animated Series, following an adaptation of Secret Wars, the series spun off into Spider-Wars, which spanned over Season 5 Episode 12 and 13. It featured different versions of Spider-man, coming together with the help of Madame Web, to defeat a threat, sounds familiar huh?
Panels to Pixels did a great Youtube video going in depth on this:
The series was adapted in comic book form, however, it only lasted a handful of issues and did not make it to the Spider-Wars story line. Imagine if it did, that issue would be worth grabbing as first "Spider-verse." There are some notable issues in the run though, including, Spiderman Adventures #8
 which had the first black costume Spiderman appear in it from the animated universe and Spiderman Adventures #10
 which featured the first appearance of the animated Venom in comic form.
And finally, see it before it is gone, the hilarious Post Credit Scene from Into the Spiderverse. (Sorry it is a low quality Youtube video (not mine) and will probably be deleted before too long.