Announcing the winners for the CHU Contest Giveaway, the contest where you had to work a little harder than just entering your name.
This contest had 3 prizes. The fist entrant that gets all the correct answers or the most wins the first prize, then the next entrants follow thereafter with concurrent prizes.
First (Top) Prize: $50 Gift Certificate to Midtown Comics
Estimated Value: $50 (I feel silly but you know, gotta disclaim the value).
2nd Prize: Amazing Spider-Man Blank Variant w/ Original Poyo Sketch
This is not the sketch you'll be winning, just a sample. But yes, that's the blank variant you will get and I will do some type of Spider-Man sketch on it.
The sketch in the example above was an actual sketch I did at one time, with some magic of photo editing, I threw it on the cover to give you an idea of what the prize will be.
Estimated value: Priceless of course. It'll will be a one of a kind Poyo Original! Unless of course you just want the blank comic without me doodling on it.
3rd Prize: Conan The Barbarian #1 Signed by Jason Aaron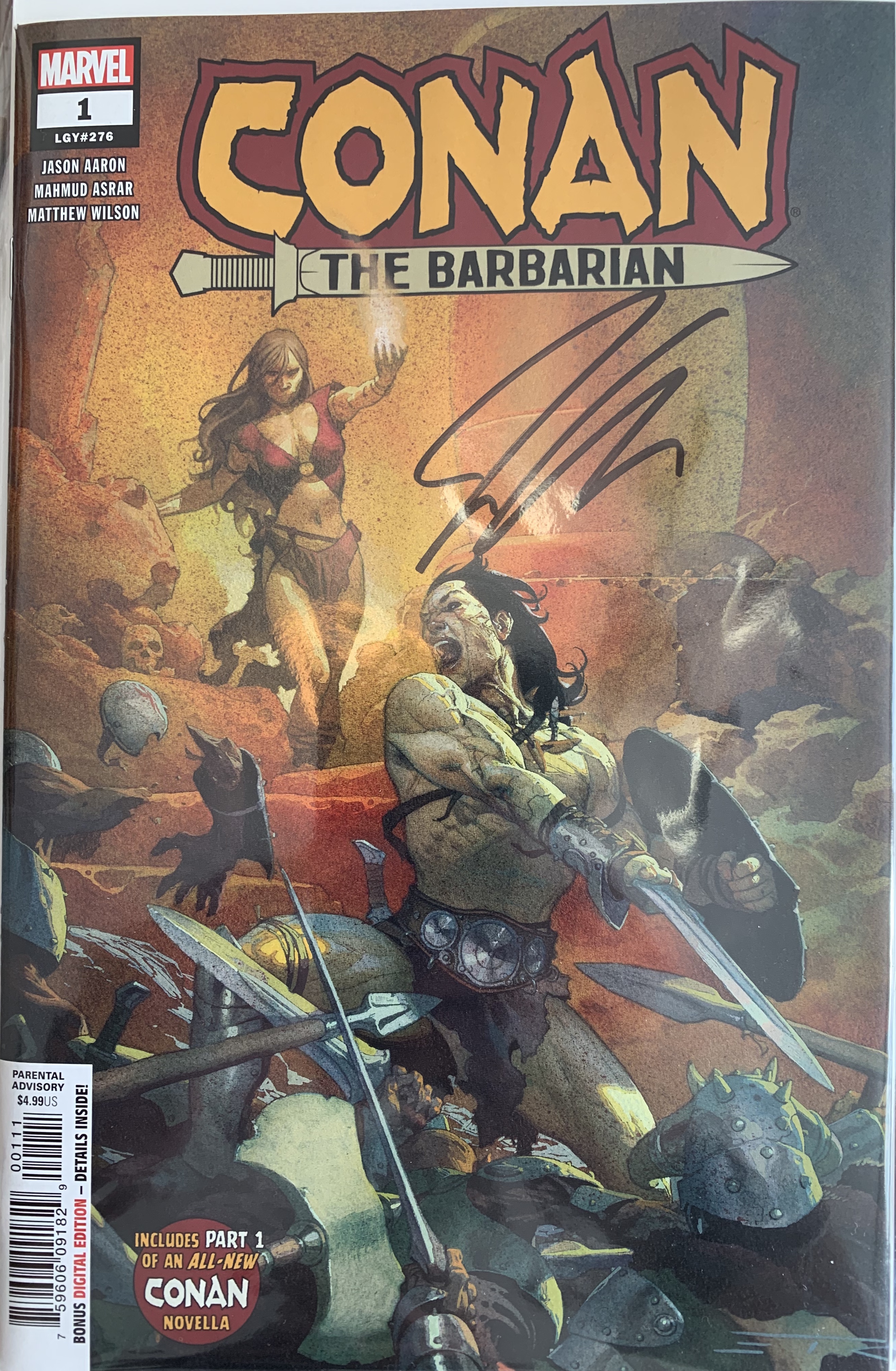 So, now on to the winners.
Congratulations to Justin Churchey as the first winner and the winner of the $50 Midtown Giftcard. You were the first to answer not only the most correct questions but the only entrant to get all of the questions correct.
The second winner goes to Joseph Formeller who got 9 out of 10 questions correct. Winner of the ASM Blank with Poyo sketch (unless of course you don't want me to doodle on it). Great job!
Edit: So I goofed up and accidently skipped over Ammar Zaidi's entrant where they got 8 out of 10 questions correctly. So I'm working on a prize for them, most likely an ASM sketch or another book.
The third winner and winner of the signed Conan book goes to Michael Dachuk who got 7 out of the 10 questions correct.
Congratulations to all the winners.
Now, for all you curious people out there, the questions with answers from the contest.
What children's book can I recite by heart?
Goodnight Moon
What helps me think when I'm working, it's a particular talent?
Juggling
What variant book did I claim to have bought the last one off Midtown?
Stabbity Bunny #2
What book do I claim I read when going number 2?
Simpsons
What did I claim was both a blessing and a curse?
Kids Two Weeks for Spring Break
What will I pick over comics any day of the year?
Vacation
What did I ask Greg Pak when I met him when Totally Awesome Hulk was launched?
When is Banner coming back?
How many times have I've gone skydiving?
3
What AMC show did I watch religiously?
Halt And Catch Fire
What candy flavor do I love and my wife hate?
Licorice
An email was sent to each of you. You all have 48 hours to claim your prizes with contact information. Please comment here if you don't see an email for any reason.