The master duo Brubaker and Phillips bring another book out of their Criminal themed series.
Read the full press release by clicking..
For nearly two decades, writer Ed Brubaker and artist Sean Phillips have created some of the most acclaimed and hard-hitting crime comics in the medium's history—and now they're exposing the seedy underbelly of the comic book industry itself. Their latest collaboration, Bad Weekend, explores comics history through the genre lens of crime fiction, bringing readers on a dark ride through the secret history of an industry that's always been haunted by crooks, swindlers, and desperate dreamers. Image Comics will publish Bad Weekend—the ultimate comic convention crime tale—as a hardcover this July, ahead of San Diego Comic-Con.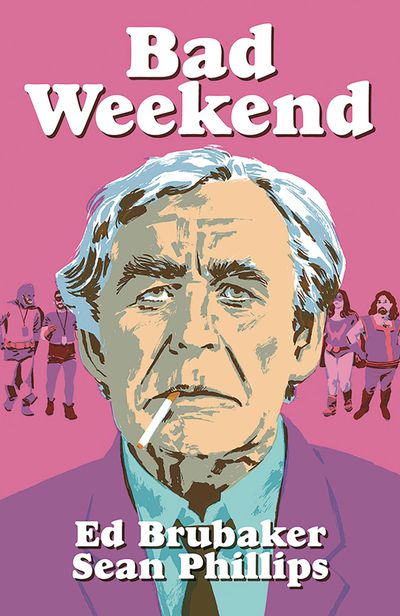 In Bad Weekend, we meet Hal Crane, a legendary cartoonist who's been around since the earliest days of comics. Hal knows that comics won't just break your heart. Comics will kill you. Stuck at an out-of-town convention waiting to receive a lifetime achievement award, Crane must confront a history of old grudges and terrible mistakes.
"I feel like this is a comic I've been writing in my head most of my career," said Brubaker. "Hal Crane isn't based on anyone in particular. But bits and pieces of his history are lifted from sad tales and sordid gossip that you hear over the years in this business, especially about the old days. Gambling. Drinking. Prostitution. Theft. Death. There's always been a darkness at the edge of comics and I wanted to explore that in Bad Weekend. Is this an exposé of the industry? Sort of, but it's a love letter to the medium, as well."
Bad Weekend features an expanded and remastered version of the story recently serialized in issues #2 and #3 of Criminal
, with several completely new scenes, and presented in the same gorgeous hardcover format as Brubaker and Phillip's bestselling graphic novel My Heroes Have Always Been Junkies (another recommended read if you haven't read it yet). And like every Criminal graphic novel, Bad Weekend is a stand-alone story that works as a singular reading experience.
---
The bestselling crime series returns to print in strikingly-designed new editions from Image, starting where it all began: CRIMINAL, VOL. 1: COWARD-a new take on noir that turned the heist story on its head and created a whole new underworld for BRUBAKER & PHILLIPS to explore. BRUBAKER & PHILLIPS' recent series FATALE and The FADE OUT have brought their work to a wider audience of new readers, and now is the perfect time to show them the work that made the award-winning team's reputation! 'Brubaker and Phillips' books have always been about eight years ahead of their time.' -Brian K. Vaughan