It's that time again, where I tell you what's really grinding my gears for the week of June 19th, 2019.
Some weeks it's mostly likes, other weeks it's dislikes.
So what's grinding my gears this week?
Silver Surfer Director's Cut Too Soon And Too Much
It's $7.99 and it's gonna hit stands on June 26th. The director's cut includes not only the scripts and concept art but the regular book as well. Thanks Marvel, perhaps with the digital code on the first book you can just include the script and concept art as a bonus instead of doubling the price of the book after most have already paid for it.
Talk about a total cash grab. I'm sure the second print will follow soon after (I know, because you can pre-order the Silver Surfer Black #1 (3rd Printing) already. How many copies of the same book do we all need to own? Apparently Marvel thinks we should keep paying money for the same book we likely already own multiple times over.
Thanks but no thanks. I'm sure a year or two from now I can grab the deluxe hardcover edition that includes the entire series and director's cut stuff for $19.99 or so. Good things come to those who are patient.
Also, don't forget there's my giveaway going on for a signed copy for the first winner and then 2 other lucky random winners will win a copy of the Adi Granov Comicspro variant.
I think I give away more comics nowadays than sell.
ThinkGeek.com Shutting Down
Not totally comic related but definitely pop culture related, ThinkGeek.com is shutting down and moving all it's online presence to it's parent company, GameStop.
I didn't shop there that often but I have ordered from them before in the past. The physical shops will remain open though.
This is a bummer but the nice thing we're getting out of this, they're having a 50% off site wide sale with free shipping. Better hurry, looks like most things are already gone.
Shazam! Who Laughs
Okay, I like the idea of an evil Shazam!, I just hope they don't actually call the character Shazam Who Laughs after the Batman Who Laughs character.
Likely making his debut in the upcoming Batman Superman #1 issue and making his a cover art appearance on issue #2. Could be a cool new character and villain. I do like the way he's depicted on the issue #2 cover art that was promoted by Joshua Williamson on twitter.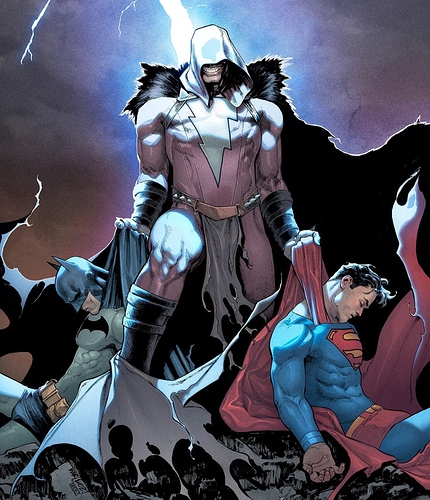 A big thanks to Alana for inspiring this and the Silver Surfer directors cut likes and dislikes.
---
These are the things grinding my gears this week. Tell us what's grinding yours here or on the forums.