Each week, hundreds of new comics hit the stands, each with potential. Some live up to that potential. We pick the ones we think have the best shot at heating up. Here are our picks of the week for delivery 6/19/19:
Returning Favorites
Last Stop On The Red Line #2 – Good story. First issue did well, partially in reference to the announcement of Dark Horse and Netflix developing content. Smaller print run second issue, a good read too.
New #1's
Superman Year One #1 – Frank Miller doing Superman. Lots of changes in store for the origin.
Usagi Yojimbo #1 – Stan Sakai's classic anthropomorphic rabbit samurai back in a new series.
Killer B's
Aquaman #49 Joshua Middleton Cover – Middleton is more known for his characters than his background. This is just awesome.
Batman #73 Ben Oliver Cover – Nice. Black covers are notoriously hard to find and keep in high grades.
Nightwing #61 Warren Louw Cover – Warren Lauw art is just incredible. Normally more well known for his females, this one is still great.
Deadpool #14 Mark Brooks Cover – Great Brooks cover for cover price. Love it.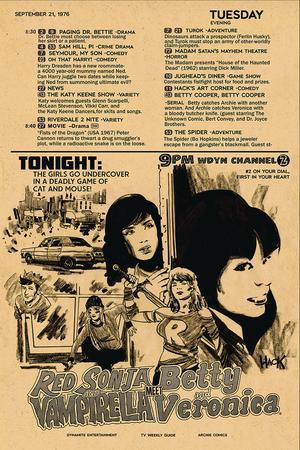 Cover of the Week
Red Sonja And Vampirella Meet Betty And Veronica #2 Robert Hack Cover – I just love this old TV Guide style listing cover.
Ones to Watch
Guardians Of The Galaxy #6 – Expect the Guardians Annual and events from Silver Surfer Black to start spreading over. (Knull I am looking at you) He is coming to Guardians, I am sure, just a matter of when.
Silver Surfer Black #1 2nd Ptg Mike Deodato Spoiler Cover
– So here is the thing, it was pretty easy to figure out what panel from Surfer Black would be the cover But they didn't use the original art, instead, they used a recreation from Mike Deodato.
The Over the Top Collector One
Teenage Mutant Ninja Turtles 35th Anniversary Box Set
– Man, I love this, reprints the Turtles first four issues in their original size. Plus some other mini-series. Awesome.
The Reprinted One
Howard The Duck Vol 1 #1 Facsimile Edition – Classic 70's Marvel reprinted in it's original format, ads and all.
Small Press Gems
Militia #1 – Small press book with equally small print run. When 40 young girls become pawns in a bloody civil war, the stakes are high. A special-forces unit is sent to show the world how it's done. Terror's worst nightmare, a woman with a gun.
No Ones #1 – small press book. deconstructionist super-hero story. Looks cool.
Small Press Pick of the Week
Crucified #1 – Bleeding Cool tried to stir up controversy on this one but it didn't take. However, still a kick butt book with a cool story.
The world's deadliest contract killer just received his next target: A man some believe to be the modern Jesus Christ. Lucas Blank, a gun for hire, finds himself contracted by a powerful NGO to execute a figure known only as the Messiah, who recently stopped a Los Angeles race riot with a single word. Lucas is a professional and it's just another job until he has his finger on the trigger and is about to complete the job, that is, until the Messiah sees him and he suffers a crisis of conscience. The NGO becomes more desperate than ever to see the Messiah dead at any costs, including sacrificing those that Lucas holds most dear. One bullet. One kill. A billion consequences.
Pick of the Week
Deadpool #14 Secret Variant
– The first batch did well. These could be good quick flips.