Kieron Gillen pumps out some winners. So this next book shouldn't go unnoticed. I really enjoy Dan Mora's art style as well, which was great in the Klaus titles he did with Grant Morrison.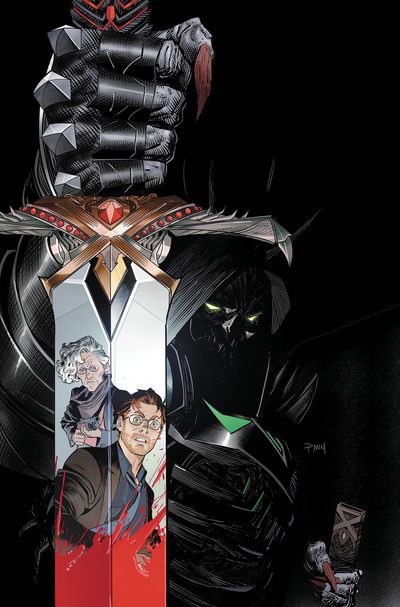 When a group of Nationalists use an ancient artifact to bring a villain from Arthurian myth back from the dead to gain power, ex-monster hunter Bridgette McGuire escapes her retirement home and pulls her unsuspecting grandson Duncan, a museum curator, into a world of magic and mysticism to defeat a legendary threat.
Bestselling writer Kieron Gillen (The Wicked + The Divine, Star Wars) and Russ Manning Award-winning artist Dan Mora (Buffy The Vampire Slayer, Klaus) explore the mysteries of the past, the complicated truths of our history and the power of family to save the day – especially if that family has secret bunkers of ancient weapons and decades of experience hunting the greatest monsters in Britain's history!
---
I like seeing new Valiant titles. Valiant puts out some quality books. They deserve more recognition.
This one is on my radar to check out.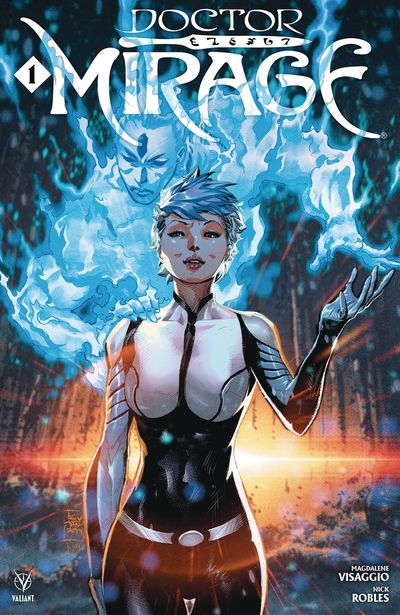 Doctor Mirage #1 (of 5) (Cover A – Tan)
How do you solve the case of your own death? Paranormal expert Doctor Shan Fong Mirage was born with the ability to see and speak to the dead-an ability that has mysteriously stopped working. Have her powers failed or is something far more sinister at work? Will she figure out her fate and the fate of the one she loves the most? Valiant's gripping supernatural mystery starts here!
If Valiant ever gets some of their characters and titles into movies, these books could be some great spec books down the line. They certainly have a rich and vast lineup that I think would do very well in movies.
---
This next book got my attention by just mentioning steampunk in the description solicitation.
It's got dinosaurs as well.
Red Range Pirates of Fireworld #1 (Cover A – Jok)
Keith Lansdale unleashes his imagination on the historical and somewhat steampunk world his father Joe R. Lansdale and the late Sam Glanzman created back in 1999.
Caleb Range (aka, The Red Mask), and his young companion Turon, find themselves under the surface of the Earth, in a place that seems lost in time.
They are quickly confronted by a group of steampunk pirates in hot pursuit of a strange fellow who can only speak one name over and over again… Seetoc! Oh, and did we mention there are dinosaurs, lots and lots of dinosaurs!
---
It's a new Jeff Lemire book. How many of his titles have heated up in the past few years? Nuff said. It's a must check out if Lemire's got his name attached.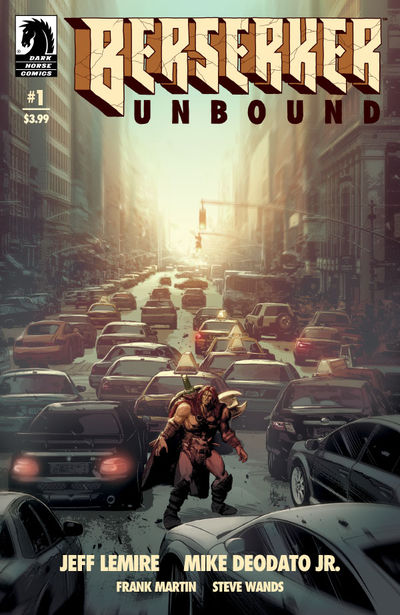 From the creator of Black Hammer! A merciless sword and sorcery warrior finds himself blasted through a wormhole to a modern-day metropolis where he must protect those around him from an evil wizard determined to send him to hell. 
From the Eisner Award-winning team of Jeff Lemire, Mike Deodato Jr., and Frank Martin comes this urban warrior fantasy series!
Can't beat Mike Deodato doing the interiors as well.
---
I've been enjoying Invisible Kingdom and the artwork is fantastic by Christian Ward.
This new book is a definite check out. It has mobsters who become wizards! Come 'on, it can't get any better than that right?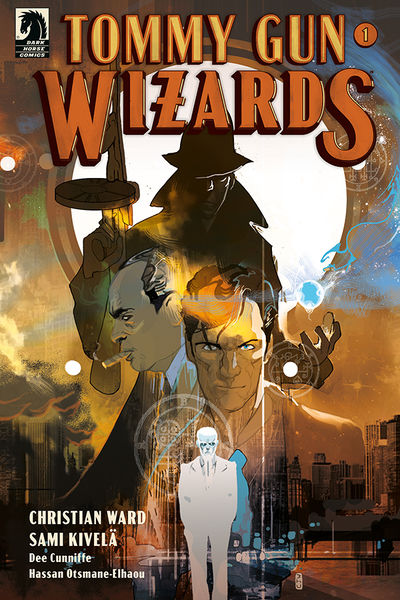 Mobsters, magic, and mayhem in the Prohibition era! Eliot Ness and his team of Untouchables work overtime taking on dangerous criminals that hide in the seedy underbelly of 1930s Chicago. Except in this world, Al Capone isn't dealing in alcohol, but in magic.
With Lick, a drug that grants magical powers to anyone who ingests it, mobsters become wizards, ordinary men become monsters, and darker secrets than Ness can imagine lie at the heart of it all.
A new genre-bending comic series from Christian Ward, artist of the acclaimed sci-fi epic Invisible Kingdom. Drawn by Sami Kivela ( Abbott ). * Variant cover by Declan Shalvey!
---
This last book is from a publisher I didn't think would ever make my list, as I can't even recall the last time I even bought from this publisher.
That publisher is Zenescope and the book is Watcher.
Watcher #1 (of 3) (Cover A – Mastrazzo)
Disturbia meets The Conjuring in this new 3-issue horror thriller from Zenescope! A Catholic Deacon and his family relocate to a suburban New England home that's long been rumored to be haunted by an evil entity.
As his teenage daughter, Erica, begins to adjust to her new life, her ongoing bouts with sleep paralysis worsen and she begins to wonder if there really is a presence inside the home.
When two of Erica's high school friends are brutally murdered, she starts to suspect the creepy neighbor who she's seen watching her through his window. The Watcher # 1 Blank Sketch Cover C also Available!