Indie books allow creators to express their stories and hard work in their own unique way. That's what makes these books special.
Let's start off the month with some new books early on rather than later. So let's take a look at some of the new spotlight books hitting shelves in the coming weeks or months from July's Previews.
Vampire State Building #1 by Ablaze Media
This one looks interesting if it's done right. I'm not too crazy for Adlard's artwork but if it's not black and white, hopefully they got a good colorist to make it look good.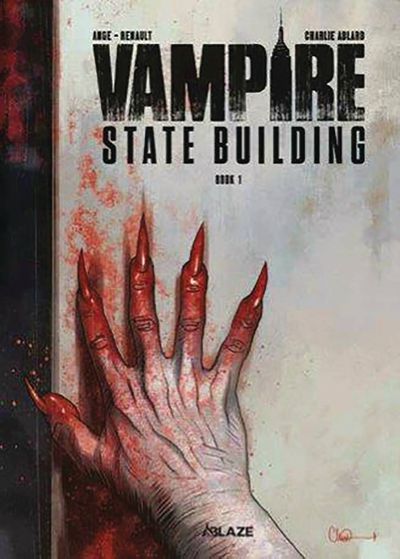 Vampire State Building #1 (Cover A – Adlard)
The newest horror series from the artist of The Walking Dead, Charlie Adlard! Just in time for Halloween, get ready to be bitten from the first full color page.
Terry Fisher is a young soldier on the verge of being sent away for active military duty, and is going to meet his friends at the top of the Empire State Building for a farewell party. But suddenly a legion of vampires attacks the skyscraper and massacres its occupants. Hounded in the 102 floors that have become a deadly trap, Terry must take decisive action to save himself and his friends – and the city of New York – before the army of abominations, and the terrible vampire god within, walled in the building since its construction, spill into the city!
Oh and there's a pretty awesome looking InHyuk Lee variant as well for this one along with a Infinity Gauntlet Homage cover as well.
---
You Are Obsolete #1 by Aftershock Comics
Evil children freak me out. So this one is on the list to check out because there is nothing more terrifying than children who kill.
You Are Obsolete #1 (Cover A – Clarke)
A disgraced journalist is called to cover a mysterious story on an isolated European island.
As she investigates, she discovers the children have taken control and are somehow killing off all adults by their 40th birthdays. Now, she must discover the truth behind the killings while staying on the good side of the children's harsh leader…or she's next.
YOU ARE OBSOLETE is an spine-tingling thriller that evokes the eerie naturalism of 1970s hor-ror films with a modern deadly digital twist.
Written by Mathew Klickstein (Sony Pic-tures' Against the Dark, Slimed!, Springfield Confidential, Selling Nostalgia) and drawn Evgeniy Bornakov (DESCENDENT).
---
Vamp #1 by Mythos Comics
It's just another night on the job for Julian Smith, driving his boss's girl to her next flesh gig.
Things get messy when Sara decides to devour a handsy pack of frat boys. Sigh.
No rest for the wicked… or their employees. It's gonna be a long night.
It's another Vampire related book. Vampires in Vegas. Could be a great read.
I really dig the cover. I'd probably pass this one by if I hasn't seen the cover art.
---
Iron Manticore One Shot by Aardvark Vanaheim
The Legend of the Iron Manticore continues! See! The Iron Manticore drunk as a skunk! See! The Iron Manticore write and perform 'cloning time'! See!
The Iron Manticore get as far as page one of his book on fractals! See! The Iron Manticore get debriefed by his helmet! See! The Iron Manticore watch the NCAA razor-wire hog-tying finals on Ophidian SportsNet 2! See!
The Iron Manticore warned that metaphysical regicide is imminent! See! The Iron Manticore watch a commercial for Jaws 12 on Bolgiaflix! See! The Iron Manticore put a dozen Pop-Tarts in his toaster oven and then forget them!
I can't tell if the "Welcome to the 300 Club Todd McFarlane" is a swipe at McFarlane or a genuine welcome. Regardless, this book just comes off as one of those odd books I have to check out.
---
Ginseng Roots #1 from Uncivilized Books
From ages 10 to 20, Craig Thompson (the author of Blankets) and his little brother Phil, toiled in Wisconsin farms.
Weeding and harvesting ginseng-a medicinal herb that fetched huge profits in China-funded Craig's youthful obsession with comic books.
Now, for the first time in his career, Thompson is working in serial form, in a bimonthly comic book series.
Part memoir, part travelogue, part essay, all comic book, Ginseng Roots explores class divide, agriculture, holistic healing, the 300 year long trade relationship between China and North America, childhood labor, and the bond between two brothers.
This seems like a very interesting book to check out. It gives the vibe it should have been issued as a graphic novel but I'll welcome it as a bi-monthly title if the story is good.
---
Dog Eaters #1 by Antarctic Press
Adapted from the screenplay that took three awards at Screenwriting Expo5!
Mankind has failed to transcend the Petroleum Age. 175 years after the Die-Off, the caravan of the Black Dog Clan, led by Lamont Black Dog, travels the trade route between the casino-cities of the American Southwest on their way to the Gulf.
During an ambush, they rescue Bevan, a Northern tribesman who catches the eye of the Lamont's daughter Tracy.
I'm picking this one for the cover art. Just looks like a mindless cheesy great over the top type of entertainment title out from Antarctic Press.
---
Forever Maps #1 from Scout Comics
The newest entry in the new BINGE! Imprint where Scout releases a World Premiere issue followed by the entire story a few months later in one volume.
In 1794, a young man named John is given a map. Curious, he follows it, and when he arrives at the end, he finds a similar map. This leads him to another, and then another, and on and on.
Determined to find something, anything, else, he continues to follow these strange maps all over the country.
Decades later, he learns that as long as he follows them, he doesn't seem to get older… and it's not until nearly a century later that he realizes when he stops, time begins to catch up with him. Torn between family and immortality, John must continually choose between living forever and having a life worth living.
I must say, I really like this new method of releasing new stories that would likely run 4-5 issues out from Scout Comics. Release the first book for a few bucks and if you like it, binge read it by buying the complete story in a trade a month or so after it's released. It's actually pure genius for those wanting to just read books and not just collect.
I must admit, most first issues become the hot book if a series heats up and some never bother with the issues after. So you get the best of both worlds, an issue #1 to collect and then the whole damn thing thereafter.
Click next page to continue reading…