Rejected Dead Girl One Shot from Source Point Press
Mr. Teeth and The Rejected return in this new one-shot from Source Point Press!
While engaged in their usual wicked deeds, The Rejected are confronted by Miranda, a young disabled girl. Unlike the rest of the world, she can see The Rejected and she wants to stop them from hurting the children in her neighborhood.
Mr. Teeth finds out that Miranda is special. She is The Dead Girl and he may have met his match.
The first Rejected saw some heat. I don't expect this one to as I think most retailers will be prepared.
But it's certainly one to watch out for. Retailers might still skip it if they don't get a lot of pre-orders, only filling such orders and none for the shelves.
---
Relics of Youth #1 from Vault Comics


Relics of Youth #1
Nat Rodrigues keeps dreaming of an island. Soon, the dreams become waking visions.
Alone and concerned, Nat manages to locate other teenagers across the globe who share her intense obsession with the unmapped enclave. And then, the strangest part: Every one of them wakes one morning with a mysterious tattoo. A tattoo only the six of them can see.
Now, each of them knows-no matter the obstacles in their way… they must discover this unknown paradise.
This one seems like a unique concept story. If it's done right, could be interesting but it's a check out before I might commit to pre-ordering or buying as it could also be a total dud as well.
It does come with a cool Deadly Class Homage for it's variant cover.
---
Something Is Killing The Children #1 from BOOM! Studios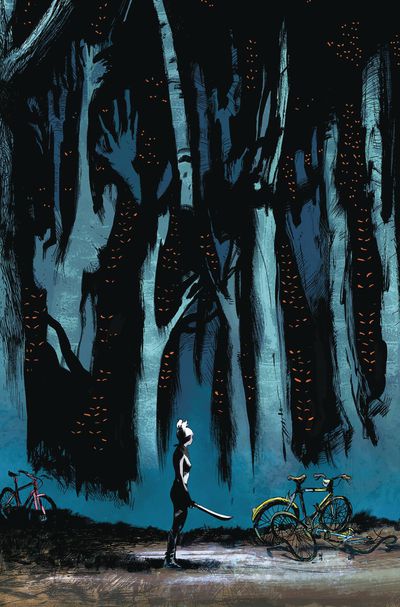 Something Is Killing Children #1
GLAAD Award-winning writer James Tynion IV (Memetic, Batman: Detective Comics) teams with artist Werther Dell'Edera (Briggs Land) for an all-new limited series about staring into the abyss to find your worst fears staring back.
When the children of Archer's Peak begin to go missing, everything seems hopeless.
Most children never return, but the ones that do have terrible stories-impossible stories of terrifying creatures that live in the shadows.
Their only hope of finding and eliminating the threat is the arrival of a mysterious stranger, one who believes the children and claims to see what they can see. Her name is Erica Slaughter. She kills monsters. That is all she does, and she bears the cost because it MUST be done.
I'm not a big Tynion fan but I do like the artist on this book. It's a check out book that has a solicitation worthy enough to perk my interest.
---
Plot #1 from Vault Comics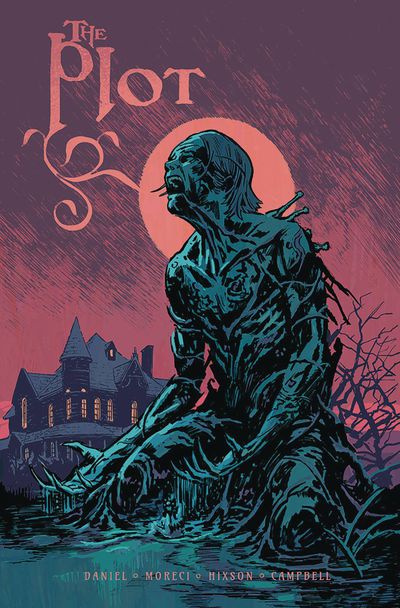 In order to receive… First you must give. When Chase Blaine's estranged brother and sister-in-law are murdered, he becomes guardian to McKenzie and Zach, the niece and nephew he hardly knows. Seeking stability for the children, Chase moves his newly formed family to his ancestral home in Cape Augusta… which overlooks a deep, black bogland teeming with family secrets.
I'm not as big a horror fan as Anthony but this one's on my list. It also has a homage to a very key DC book from back in the day.
---
Butcher Queen #1 from Red 5 Comics
In Black Star City, alien offworlders are being systematically attacked and removed from society by a clandestine paramilitary group called the Overseers.
When fugitive cop-turned-mercenary Syd Kiowa is contacted by a victim who escaped their grip, she is thrust into a horrifying war of secrets that will determine the future of alien relations on Earth forever!
I'm a sucker for a good alien earth type of sci-fi story.
Could be hit or miss. Red 5 has had some books heat up in the past so I expect this one to be a low print run and hard to find. We'll just have to see if the story is good and the book catches some demand.
---
Gutter Magic #1 out from Source Point Press
It's magic and mayhem in Manhattan, as Cinder Byrnes finds the key to a spell that will unleash his potential as a wizard, and grant him the magical powers he's always wanted.
The only problem? He can't cast a spell to save his life.
With the help of his partner in crime, Blacktooth, Cinder sets out across the city, hoping to find the spell's creator before the necromantic crime lord he stole it from catches up to him.
This one has steampunk all over it. That's a winner in my book, at least to check out.
Source Point Press has had some success in the past and with their small print runs, when a book goes into demand, you can see some nice flip potential with these.
---
Midnight Sky #1 from Scout Comics
Midnight Sky #1 (Cover A – Van Domelen)
Fresh from the pages of Scout Presents: Midnight Sky Free Comic Book Day, Midnight Sky is Invasion of the Body Snatchers meets They Live.
What would you do if you discovered your son wasn't really your son? He may look like him, act like him, but deep down in your soul you just know… he's been replaced.
Then your worst fears are realized when the light hits his face just right and you accidentally see his true appearance for yourself.
But he isn't the only one you discover… your neighbor, your friend, even your husband. Do you scream? Do you run? Or do you fight back? And how can it be that your daughter is the best and, perhaps, last hope for mankind?
Another possible horror book that might be a great read. I've enjoyed James Pruitt's previous titles he's put out. So this is a must check out.
---
Tell us what you're looking forward to reading, spec'ing on or just picking up in general when it comes to indie titles hitting shelves soon.