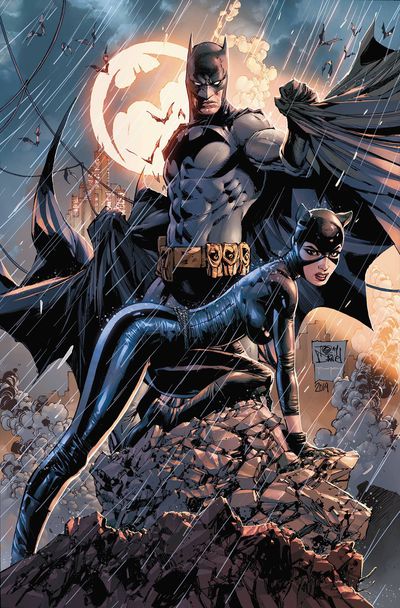 In the first part of a 'City of Bane' interlude, Batman receives help from an ally he thought he had lost for good: Catwoman!
Still recovering from the beatings he took from Bane and Flashpoint Batman, the Dark Knight readies himself for a return to Gotham City, and it's Selina Kyle who holds the key.
She knows how Bane is fueling his regime, and she'll help Batman shut down the supply line-but first she has to whip the battered hero into shape.
I really enjoy Tony S. Daniel's work. This is just a slick looking cover. I sort of dropped off the Batman reading bandwagon but this might entice me to pick up a copy for the cover art.
There is also a Batman #78 Clay Mann Variant but I can't seem to find the preview artwork for issue #78. I'm curious since Batman #79 Clay Mann Variant is a pretty sweet Killer B, despite it's card stock cover and price hike.
---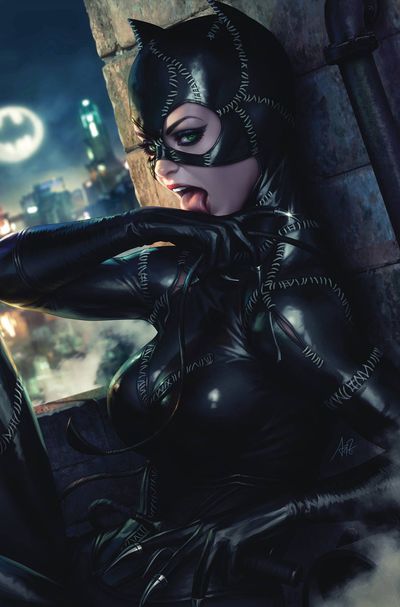 Catwoman #15 (Card Stock Variant)
After running a gauntlet of assassins to get her hands on the dossier detailing all the illegal activities of Villa Hermosa, Selina Kyle must go up against the big bosses of the criminal underworld.
She must deal with their gun-toting mercenaries, yakuza hit women and the masked bounty hunter Lock-Up.
All while still carrying a price on her head. Is there a way she can collect both big prizes herself and still walk away alive?
It's a card stock cover but this is another Artgerm cover that knocks it out of the ballpark. This has Michelle Pfeiffer from Batman Returns all over it.
---
While the mainstays of the Justice League-Superman, Green Lantern and Wonder Woman – battle the worldwide infection in the pages of DCEASED, a group of other heroes work to stop the impending apocalypse-no matter who they have to kill!
Mr. Terrific assembles a motley group of surviving heroes including Mister Miracle, Big Barda, John Constantine, Blue Beetle and Booster Gold as they attempt to fight back against the tide of death. Can this ragtag group save the world where the Justice League has thus far failed?
I've heard good reviews for DCeased. I'm actually waiting for the trade or hardcover to read it but this companion story could be an interesting tie-in. The Mattina and Putri variants are pretty cool covers as well. Pick the one you like best, I don't expect any heat on these.
---
Detective Comics #1012 (Sook Variant)
'Year of the Villain' kicks into overdrive! Victor Fries has only ever wanted one thing…to bring his wife Nora back to life in a healthy body.
Now, with Lex Luthor's aid, Victor's wish will finally come true. But how will Nora adjust to the new world she has missed?
And how will Batman try to tear Victor's dream away from him?
Just a cool looking Sook variant.
---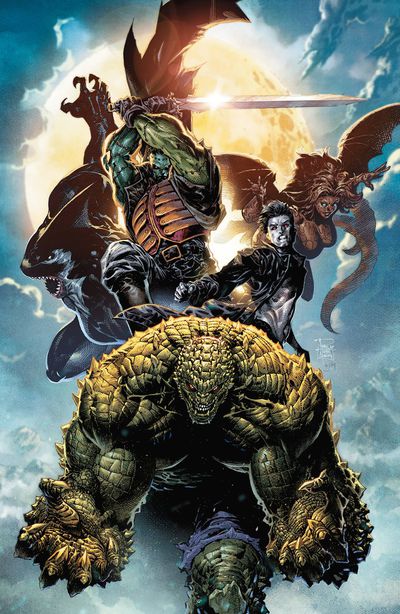 Gotham City Monsters #1 (of 6)
Leviathan has dismantled S.H.A.D.E.-and that means Frankenstein is once again a free agent!
Now he can set his sights on his former mentor, Melmoth, the one evil that got away. With bad things happening all across the Multiverse, this may be Frankenstein's last shot at setting things right. Of course, Melmoth has his own agenda, and it's going to take more than a lone monster to take him down.
So Frankenstein heads to Gotham City in search of allies and recruits Killer Croc, Lady Clayface, Orca and vampire Andrew Bennett. But will even these dread creatures be enough to save humanity before the entire cosmos collapses in on itself?
This one looks like it could be a fun read. It's a mini-series by Steve Orlando and art from Nahuelpan.
Click the next page to continue…