It's that time again, where I tell you what's really grinding my gears for the week of July 10th, 2019.
Some weeks it's mostly likes, other weeks it's dislikes.
So what's grinding my gears this week?
Stranger Things 3
Stranger Things is back for it's 3rd season. I don't watch too much TV or binge too many shows on Netflix or other streaming services but this one is an exception for me and the family.
I haven't started watching it yet as we've been out of town for the 4th so we'll likely start binge watching it this week. Maybe until then, I'm really thinking about pulling the trigger for the new LEGO set that came out a month or so back (especially since there's currently double VIP points for all purchases that ends today).
Stranger Things makes me happy. So do LEGO's.
Unearth Finally Unearthed
I've been waiting for this book Unearth to finally debut. I got an advanced digital preview copy and it's just a great read.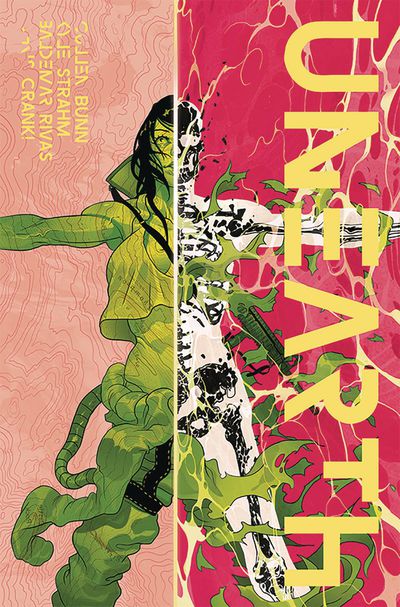 SERIES PREMIERE! When a flesh-warping disease ravages a remote village in Mexico, a scientific task force travels to the inhospitable area to investigate the contamination.
Tracing the source of the disease to a nearby cave system, the team discovers a bizarre, hostile ecosystem and a supernatural revelation from which they may never escape.
This new subterranean nightmare is brought to you by writers CULLEN BUNN (REGRESSION) and KYLE STRAHM (SPREAD), and rising-star artist BALDEMAR RIVAS!
If you're a fan of Spread and Enormous, this one is right up your alley I think. I just can't wait for the next issue to see where it continues.
Wednesday Winners
When was the last time we had so many winners in a two week time span? From Marvel Comics Presents #6
to Canto #1
. Then we saw an abrupt ending to the Walking Dead in issue #193
after Ricks Death (I give Kirkman some due credit for that one). We saw a surprise winner out of TMNT #95
with a new character. Then we saw another Zombie book pay tribute to Stan Lee
that turned a $5 book into a $60 book.
Seems we were in a bit of a lull there until the past few weeks when it comes to winners coming out of the new Wednesday books.
Hopefully we keep getting some future winners and suprise winners in the comic weeks going into con season.
---
That's all  I got this week. What's grinding your gears? Tell us here or on the forums.