Vampirella certainly has her followers and there are some really great eye catching covers coming our way. As a Vampirella fan and collector myself, I felt it just to do a huge gallery of some of the upcoming covers for the various books hitting store shelves in the coming months.
I'll start off with the big boy book as it's pricey but a must for any Vampirella fan and collector.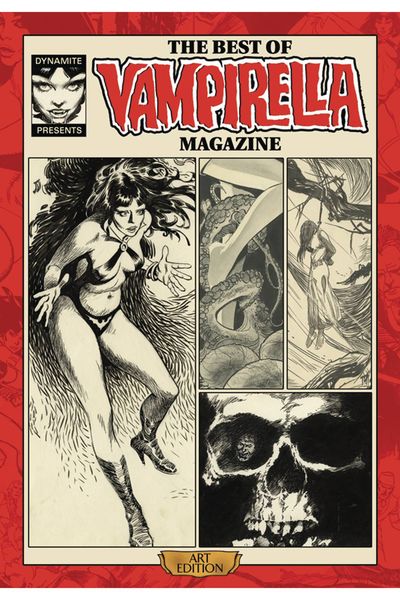 Best of Vampirella Magazine Art Edition HCs
Terror aficionados, prepare to be bewitched and bedeviled! Tales of Vampirella is a glorious hardcover treasury of actual storyboard artwork from the heyday of horror comics, scanned in high-resolution color and printed at original size. Over a dozen mesmerizing tales appear in their entirety, stories ranging from Vampirella Magazine #9 (January 1971) to issue #112 (October 1979). Featuring contributions from such comic luminaries as Jeffrey Jones, Auraleon, Jose Ortiz, and Luis Bermejo (to name a few), this hardcover Art Edition preserves and celebrates the meticulous skill and hard work of the artists that defined the horror comic medium!
Next on the list are the 1969 Replica Magazines. Another pickup if you got the dough to dish out for these. Platinum, Blue and Red foil, all different print runs, all different price points.

Vampirella #1 1969 Replica Ed Ltd Platinum Foil Cover

Vampirella #1 1969 Replica Ed Ltd Blue Foil Cover

Vampirella #1 1969 Replica Ed Ltd Red Foil Cover
Okay, I'm sneaking in a statue but if you liked the Artgerm variant cover, you can now own it as a 7.5″ tall resin bust as well.
Artgerm Vampirella Bust Statue
There will be blood when Stanley Lau (aka Artgerm) gets ahold of Vampirella! Based on his haunting cover to Vampirella #2, this 7.5″ tall resin bust is Dynamite's most unique rendering of Vampi to date! This very limited-edition bust is meticulously hand-painted, right down to the bloody 'outfit', and is a must-own for any Vampirella or Artgerm fans!
Click the next page to view the rest of the Vampirella Gallery of upcoming books.