It's that time again, where I tell you what's really grinding my gears for the week of August 14th, 2019.
Some weeks it's mostly likes, other weeks it's dislikes.
So what's grinding my gears this week?
This weeks Likes and Dislikes include some likes or dislikes from Anthony. He told me to throw in this weeks column. Can you guess which one(s) are his?
MyComicShop Playing Secondary Market Games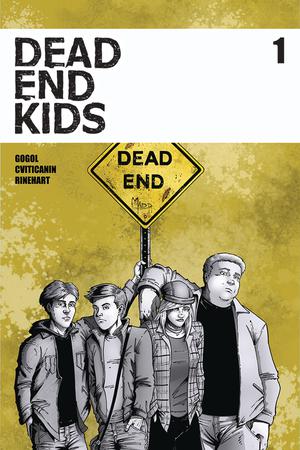 Dead End Kids
was the hot book from last week. I did not like how they bumped the prices up to $15 the night before Wednesday when they first listed what they had available for sale.
Boo on them! These are the tactics that destroy this industry and drive away customers. Yes, there are those who buy to flip but there's a lot who just want a copy to read.
But this also leads me back to, read our Indie Picks and Spotlight reviews and previews we put out. You might find interesting picks to pre-order at cover price instead of having to deal with retailers who jack their prices up on the harder to get books.
It's still no excuse though when a retailer, who is our first option to buy new books at retail prices, bumps their prices to take advantage of their customers. They'll lose more customers with such tactics than gain.
It's already past FOC for issue #2 but you can still order Dead End Kids #3.
MyComicShop Again – Trade-In Woes
Nothing worse than ordering what is classified as NM books from MyComicShop at cover price for a few books and left them unopened in the package they sent them in.
Then before they're cracked opened, find out MyComicShop is accepting the same books with trade-in value at a much higher price than paid. So the books are shipped back how they were shipped.
After they arrive, some time passes and they come back to claim the books are VF and they're not doing a trade-in value of NM, plus they say there's only 3 books and not 4. WTF? So the books they sell at NM are only VF when you trade them back in? What's your problem MyComicShop? Seems pretty shady.
I guess it's not a total surprise. Anyone ever notice most if not all their new release books on eBay are almost always classified as F/VF grade? Just a listing gimmick that gets them out of returns if they arrive damaged or have other issues.
Shout Out To Mel V.
A huge shout out to Mel V (yes, our Mel V who does the weekly variant picks) for doing a pretty awesome Drunken Chat Son episode to bring most of the major speculator sites all into the same chat to talk about comics.
Lots of F bombs mixed with lots of comic talk. Check it out if you got about 6 hours to watch some of the best talk comics and other shit!
I think Mel's main point in last nights episode is, we're all doing spec for the same reasons. There shouldn't be any hate between anyone. Instead, allow each spec site or group do it their own way and style.
We speculate to share the info we gather to help flippers flip comics. We speculate to give the readers and collectors the upcoming hot new books so they know where to get them cheap to avoid breaking the bank and we also do it to keep our favorite retailers in business to continue serving the comic book industry.
To all the other spec sites and groups who might be reading this, keep doing what you're doing and we'll keep doing what we're doing. There is no right or wrong way to speculating. To each their own and their own style of spreading the information to those who visit these sites and groups. There is no right or wrong way to speculate.
You can watch Mel V's Drunken Chat Son every Friday Night on YouTube.
Spawn Covers 
What the ass McFarlane…   ? All the covers have been revealed except the Cover A for Spawn #300. Okay so there's Cover B as well but it's just slated to be a BW version of the regular.
FOC is upon us and you're making retailers order these blindly for the most part.
This better be the best Spawn cover in the history of Spawn for making people wonder what it's going to look like and so close to FOC.
You can still pre-order most of the Spawn #300 here.