Celebrating 25 years in comics, SHI creator Billy Tucci has produced a limited-edition of Shi: The Way of the Warrior #1 and it's the fantastic Amazing Spider-Man #300 Homage Exclusive debuting at this year's New York Comic Con (NYCC).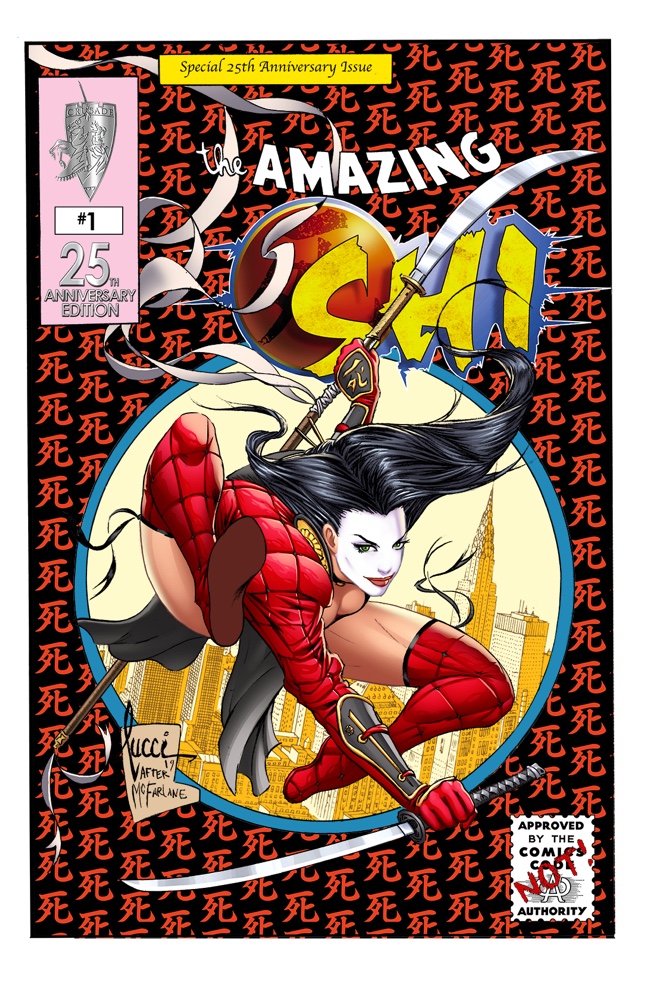 Tucci will be set up at the NYCC in Artist Alley, Table L20, but will offer those who cannot attend the con a special Pre-Sale started at 12 p.m. EDT, Thursday September 5, 2019 via his website store, http://www.billytucci.com/store/ priced at only $10.00 US and limited to 500 copies.
Todd McFarlane's legendary 25th Anniversary issue cover holds a special place in Tucci's heart as it was the book that got him back into comics.
"Growing up, my favorites were Daredevil, Spider-Man, Werewolf By Night and DC's war comics, but by the time I had gotten to high school my interests had strayed elsewhere," he said. "But I'll never forget that day back in art college when I first saw ASM #300. It literally was life-changing for me. David Michelinie's writing and Todd McFarlane's free-wheeling, dynamic art rekindled that old love and made me believe that I, too, could make a living making comics."
With 32 full-color pages of story and art, the SHI: #300 HomageEdition Tucci also strived to be as historically accurate production–wise to the original as possible. "I tried to replicate the same cover stock and interior quality. After all, the greatest comic books in history have all been printed on newsprint!" he said.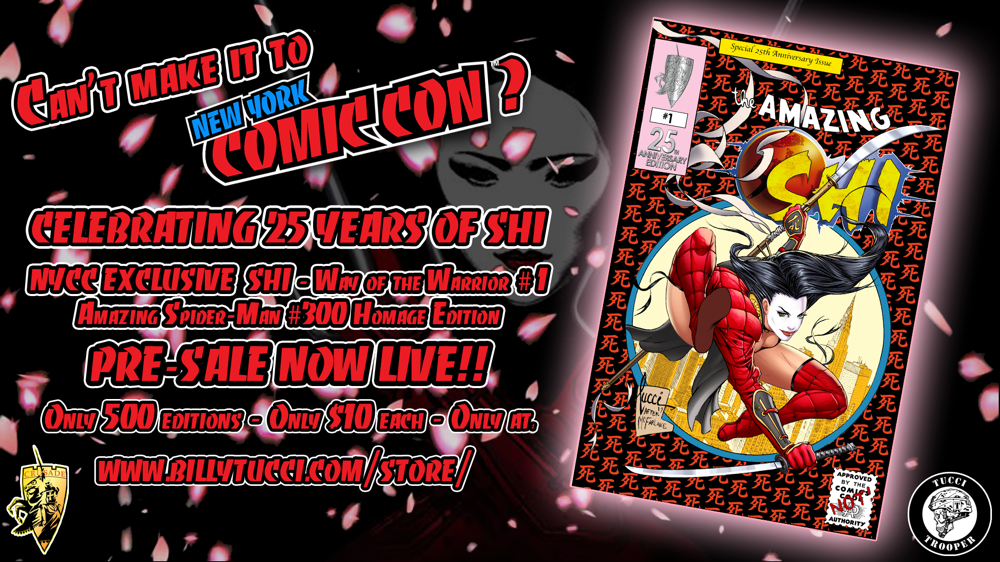 "With that one book," the 2019 Inkpot Award recipient continued, "I fell back in love with comics. Todd and David had a fan in me for life, and I've waited 25 years to illustrate my own homage to ASM #300. I just HAD to make this comic to coincide with Shi's 25th anniversary and I am forever in debt to Todd and David for their inspiration!"
The New York Comic Con will be held Thursday October 3 – Sunday October 6, 2019 at the Jacob K. Javits Convention Center in Manhattan. During the convention, Tucci will sign daily at his booth, table L20, in the Artist Alley section. He will have copies of this edition and his other works, including Zombie-Sama, and the Big, Big Overstreet Price Guide Vol. 49 available for sale.
The online pre-sale for the #300 Homage Edition of Shi: The Way of the Warrior #1 kicks off at 12 p.m. EDT, Thursday September 5th, at http://www.billytucci.com/store/.
For Comic Shop Owners and our Dealer friends, Crusade offers special bulk Retailer Discount levels for this edition. For more information please contact Deborah Tucci: tuccitroopers@optonline.net