Previews gives us a glimpse of what's to come. Here's the spotlight new books coming out of March Previews for DC Comics who pretty much dominated the last month of speculation and heat.
Here's some of the books we're likely adding to our pre-orders pulls and subscribes.
All the DC rave is leading up to Joker War. All the tie-in in other titles are starting to gain attraction. This first one is a perfect example of one to watch.

Batgirl #47 Joker War
Batgirl #47 (T Dodson and R Dodson Variant) Joker War
Knock knock!
Who's there?
The Joker.
The Joker who?
The Joker who's here to have a nice chat with Barbara Gordon! Don't miss this devastating tie-in to 'Joker War'!
---
Leading up to Joker War, Batman is still dealing with The Designer.

Batman #94
Batman #94 (Mattina Variant)
The Designer's machinations have left Batman's life in tatters! Gotham City's ambitious rebuilding has skittered to a halt as new powers are rising to shape its destiny-and Batman is powerless to stop them!
With no Alfred or Bat-Family to lean on, the Dark Knight stands alone against the ascendance of his greatest adversary!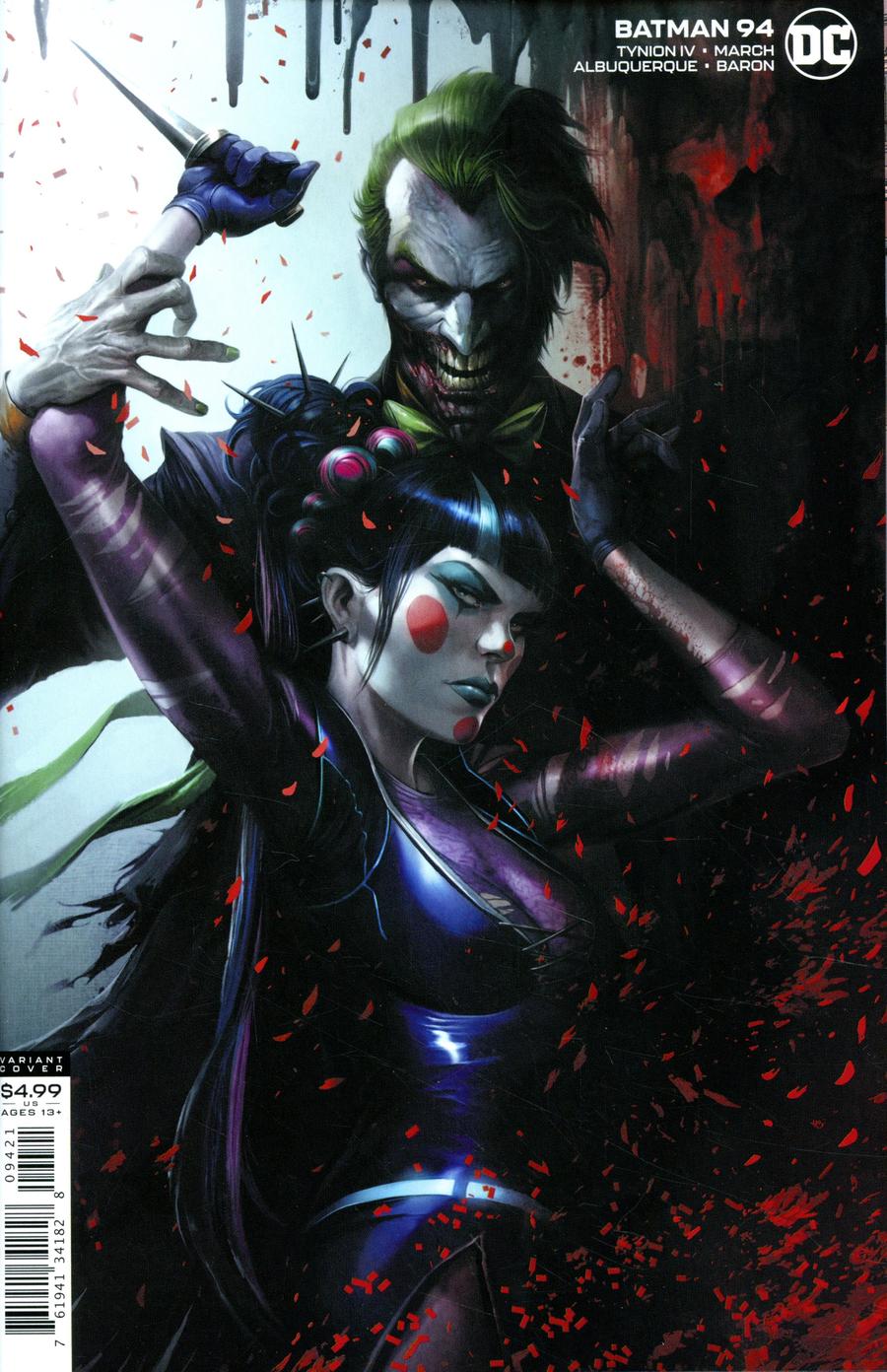 Of course Batman #95 kicks off the main Joker War story line.

Batman #95 Joker War
Batman #95 (Mattina Variant) Joker War
It was always going to come to this. The Clown Prince of Crime and the Dark Knight Detective go head-to-head for the last time.
The Joker has never wanted to win before, he's never wanted his battle with Batman to end, but now his motivation has shifted. He has decided that one way or another, this will be the final chapter to their story. 'Joker War' begins here!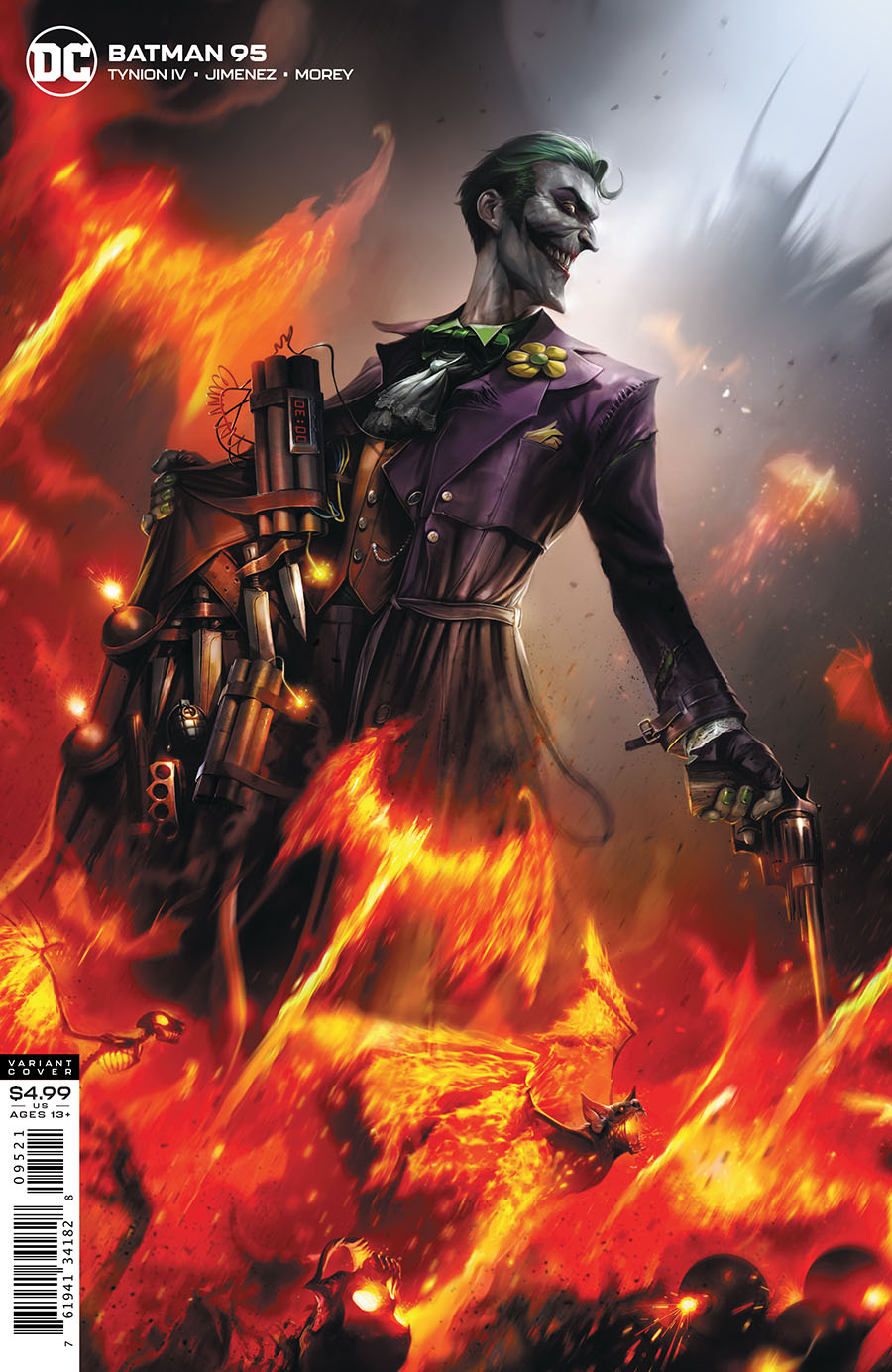 ---
Of course Detective Comics is not immune to Joker either. This is a great looking cover for a regular as well.

Detective Comics #1023 Joker War
Detective Comics #1023 (Lee Bermejo Variant)
Just when you thought it was safe to crack a smile, The Joker is back to crash the party!
Hot on the heels of 'Joker War,' the Clown Prince of Crime is revealed as the mastermind behind Two-Face's turmoil-but to what end? Batman will need all the allies he can get, and what better ally than Harvey Dent? Can the Dark Knight cure his friend once and for all in time to fight the greatest battle of his life?
---
Nightwing #70 is heating up over the anticipation that Punchline makes an appearance. This upcoming issue we know for a fact she shows up.

Nightwing #72
Nightwing #72 (Alan Quah Variant)
Dick Grayson has learned the truth: that 'fixing' his identity lies with none other than Barbara Gordon.
He must go to Gotham to find Batgirl-and runs into The Joker's new henchperson, Punchline.
Unlike Harley Quinn, Punchline's deadpan black humor matches the deadly knives she uses on her victims…and for her next joke, Ric Grayson is the punchline.
---
Lemire's Killer Smile was a great read and Lemire knocked it out of the ballpark. So this is a must pick up.

Batman the Smile Killer #1
Batman the Smile Killer #1 (Kaare Andrews Variant)
It wouldn't be a Joker story without a surprise…and right on cue, here's an unexpected one-shot epilogue to Joker: Killer Smile! Young Bruce Wayne grew up watching The Mr. Smiles Show – and the show might have been watching him back!
And not only was young Bruce watching, he was listening… listening as Mr. Smiles spoke across the airwaves only to him… The Eisner Award-winning creative team of writer Jeff Lemire and artist Andrea Sorrentino land one last gut-punch – turning the mythos of the Batman on its head in the most devastating trick The Joker has ever devised! PRESTIGE FORMAT.
---
The next Metal's story is coming soon. We going to get another Batman Who Laughs out of this one? There's a bunch of covers for this one as well. I actually love the Black Blank variant the best.

Dark Nights Death Metal #1 (of 6)
Dark Nights Death Metal #1 (of 6) (David Finch Batman Variant)
Dark Nights Death Metal #1 (of 6) (Mattina Superman Variant)
Dark Nights Death Metal #1 (of 6) Stanley Artgerm Lau Wonder Woman Variant
Dark Nights Death Metal #1 (of 6) (Black Blank Variant)
Dark Nights Death Metal #1 (of 6) (1:25 Doug Mahnke Variant)
Dark Nights Death Metal #1 (of 6) (1:100 Capullo Variant)
Get ready for the earth-shattering encore! The legendary team behind Dark Nights: Metal and Batman: Last Knight on Earth take center stage and reunite for one last tour.
When the Earth is enveloped by the Dark Multiverse, the Justice League is at the mercy of the Batman Who Laughs.
Humanity struggles to survive in a hellish landscape twisted beyond recognition, while Batman, Wonder Woman, and Superman have all been separated and fight to survive.
Unleash the beast and let the head banging begin!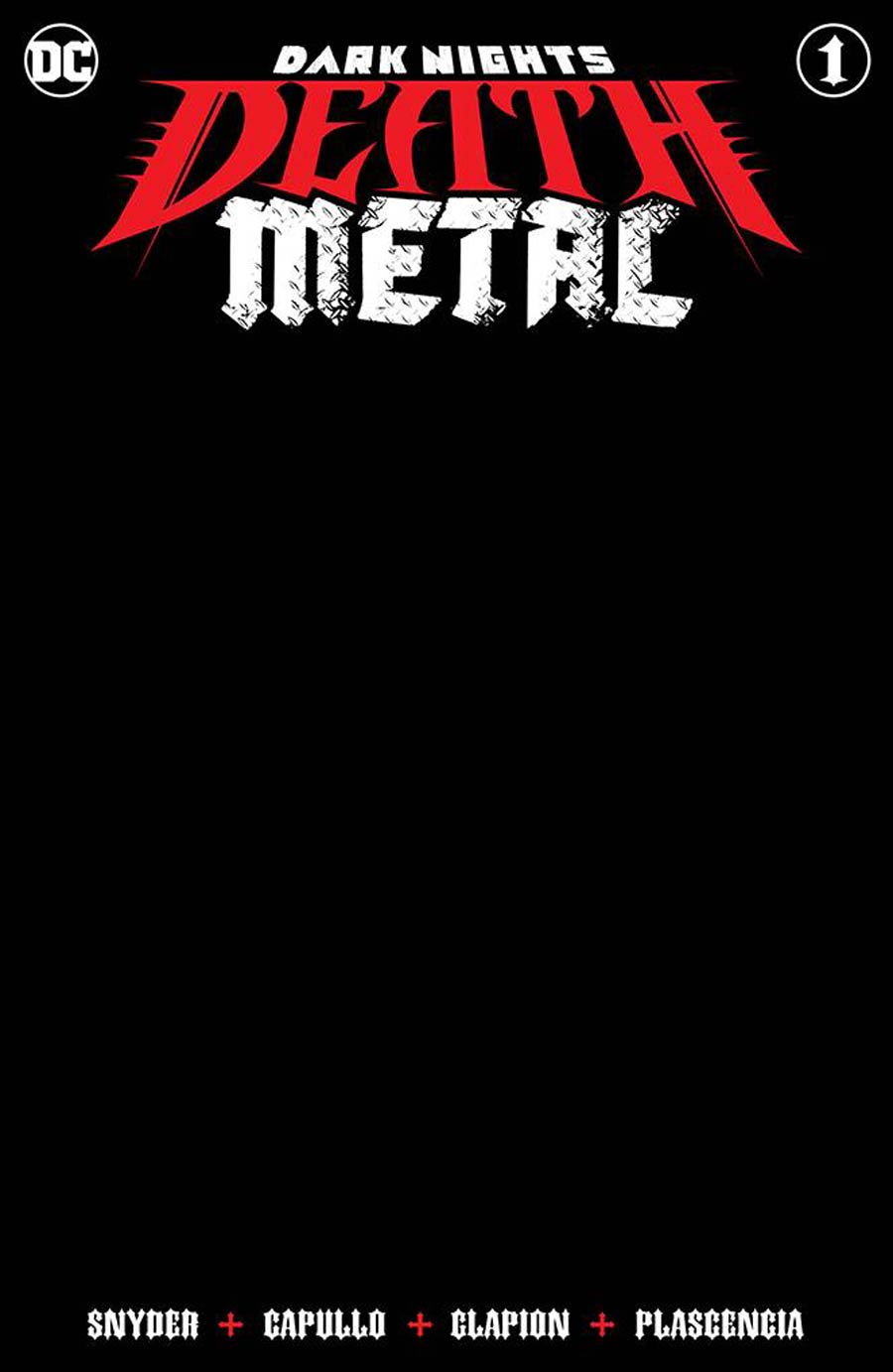 ---
Any Batman Animated series fans? This one is for you all.

Batman the Adventures Continue #1 (of 6)
Batman the Adventures Continue #1 (of 6) (Blank Variant)
Batman the Adventures Continue #1 (of 6) (Dan Mora Variant)
From the visionary producers of Batman: The Animated Series come all-new stories in this seminal animated world. In this opening chapter, Wayne Enterprises in Gotham City is attacked by a giant robot that steals an entire room from the laboratory.
Who's controlling the robot? How will Batman stop the mechanized menace? And what does it all have to do with Lex Luthor's sudden appearance in Gotham?
---
Kyle Hotz makes great covers. I'm really digging this regular cover he's doing for this new upcoming mini-series.

Man Bat #1 (of 5)
Man Bat #1 (of 5) (Kevin Nowlan Variant)
For years Kirk Langstrom has struggled with his monstrous alter ego Man-Bat and the serum that transformed him.
But he's finally hit rock bottom following a devastating setback, and he's going to take out his anger on every single citizen of Gotham City.
Will the combined might of Batman and the GCPD be enough to stop Langstrom once and for all? Or will this just be the start of Man-Bat's devastation?
---
Finally a book that doesn't mention "Bat" in any way or form. If you're not reading this series, you should be.
At the edge of creation lies the Black Stair. And beyond it, amidst the void, He waits. Mol Uhltep, the Last God. This is the tale of those who claimed to slay him, and the world they doomed with their lies.
The second act of The Last God begins! Shaken by their battle with the Flowering Dead and mourning a tragic loss, Cyanthe's fellowship journeys to the treacherous Karkarok Mountains, where the Dwarrows dwell, in hopes of finding a safe haven for their wounded. But the subterranean artificers are nowhere to be found.
With time running out for the world of Cain Anuun, the unlikely heroes will have to learn to trust each other if they are to have any hope of surviving the journey to the Black Stair. Meanwhile, 30 years in the past, Haakon the Peerless teaches Tyr's fellowship how to kill the children of a god.
---
The new horror series that's been a great read with some really awesome covers to go along with them.

Daphne Byrne #5 (of 6)
Daphne Byrne #5 (of 6) (Sebastian Fiumara Variant)
Daphne is betrayed by everyone she ever trusted-and neither heaven nor hell can help any of them once her rage is awakened…
There'a a lot more books coming out from DC. Share what you're pulls are, great reads and what you think might be a spec play for the upcoming DC books coming out of March Previews.