Every week, hundreds of new comics hit the stands, each with potential. We pick the ones we think have the best shot at heating up. Here are our picks of the week for delivery 6/10/20.
Not gonna lie, kind of a tame week. No Dark Horse and no new Marvel. Diamond may be supporting the "Back the Comeback" initiative, but DC is starting weeks ahead of everyone else.
New #1's
Dark Nights Death Metal #1 – DC's next big event book. I read it, put up spoilers too, interesting book, new Batmen variations, some cool cameos, and if it sticks, a pretty big death.
A Man Among Ye #1 – New Image series about female pirates. Looks interesting enough.
Ones to Watch
Young Justice #15 – the Truth about Connor Kent, interesting that there are two Superboy's floating around right now. This is one of those funny feeling books, could be the "on the sly" kind of book to heat up.
GI Joe a Real American Hero #272 – Snake Hunt Story line. I find it odd that neither of the regular covers have been put on Diamond as of yet. Wonder if they are trying to sneak something by. Cobra has been trying to make a Snake Eyes of their own wonder if it happens here. Just one of those funny feelings. I could be wrong, I could be right.
Crow Lethe #2 – Peach Momoko is hot right now. Even more so than when the first issue came out. Couple that with a typically smaller print run for the second issue and this could be good down the line.
Reprint of the Week
Detective Comics #475 Cover B Facsimile Edition – origin of the Joker Fish. Great book and made so everyone can grab a copy.
Cover of the Week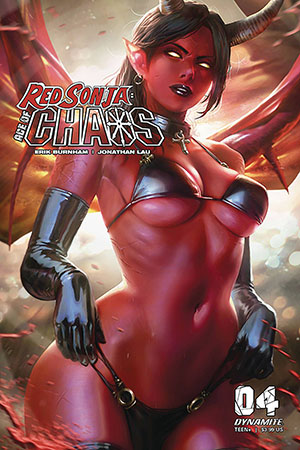 Red Sonja Age Of Chaos #4 Derrick Chew Cover – I really like Chew's art. This is one of several variants (ok 20) out there so a kind of small print run is now divided down more so, even more so if you are looking at the ratios for the same cover.
Small Press Pick of the Week
Grievling #1 – Steve Niles and Damien Worm, the creative team behind October Faction, great comic not so great show, reunite for a new small press series. What I like is it is very small press stuff with a high cover price. Just the kind of book that retailers like to skip over. Plus, it is a horror book so that is a must for me.
Pick of the Week
Wynd #1– This is a kind of "hold your nose" type of pick. Yes, James Tynion has been on fire lately, plus, it is a Boom Studios book and there is that built in chance of a media deal. And it was an "unannounced series" so some retailers might have missed out on it. The problem is there are numerous variants that will keep the A and B covers down for a while. There is the 1:25 Variant, the One Per Store Thank You Variant, not to mention store variants and secret store variants both by Peach Momoko.