Every week, hundreds of new comics hit the stands, each with potential. We pick the ones we think have the best shot at heating up. Here are our picks of the week for comics delivering 10/14/20:
Big week for new series.
New #1's
Rorschach #1 – Watchman favorite character returns to comics, again. Looks like a very interesting take.
DieNamite #1 – New series from Dynamite Entertainment uniting all of their universes. Peach Momoko Covers on this one.
Commanders In Crisis #1 – New Image series by Steve Orlando. Big superhero book. A bunch of covers on this one as well, also some Peach Momoko covers too.
Carmine #1 – New interesting looking Action Lab series. Carmine is the new "seal bearer" for the House of Cochineal. Destined to become the future Queen of the House; ruling the Guardian Organization: which on the face of it is a charity for talented orphans, but is charged with keeping humanity safe. Carmine's race; Antediluvians bonded to their "seals" are given long lives as well as "powers." Carmine's seal The Lightning Beast is deemed both a declaration and warning when it awakes; the competition wants her dead before that happens.
Concrete Jungle #1 – New Scout Comics series. Scout has been hot lately. When a rogue telepath begins hijacking unsuspecting minds and bodies to commit vicious crimes, crooked Detective Annie Brunson is charged with cracking the case with her new straight laced telepathic partner, Faith Jones. Set among a backdrop of urban decay, exotic aliens, robots, and genetic mutations. In this city, there are no good guys. There are no bad guys. There are only survivors.
Devils Red Bride #1 – Awesome looking new Vault series. From writer Sebastin Girner (Shirtless Bear-Fighter!, Scales & Scoundrels) and artist John Bivens (Creature Feature, Spread) comes a blood-drenched love letter to Samurai fiction in a chilling tale of guilt, trauma, and vengeance.
Muertana #1 – New Verotik series from Glen Danzig. Cult following on his comic works.
Vain #1 – New series from Oni Press. Chicago, 1941. A blood bank is held up in a robbery, but no cash is taken – only blood. It's the latest in a string of similar crimes and FBI Agent Felix Franklin is certain it's part of a wider plot. But the truth is much more sinister than he could imagine. The four robbers – who call themselves The Vain – are vampires: immortal, physically powerful, and after decades of honing their skills, practically untraceable. But in a world that is rapidly changing, stealing blood is harder every day and with each decade that passes, Agent Franklin inches closer to the truth.
For the Cover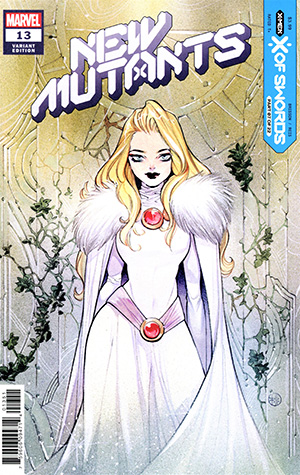 New Mutants #13 – Peach Momoko that is worth the grab.
Ones to Watch
Amazing Spider-Man #50 – Extra sized issue, features the identity reveal of Kindred. Spoilers to come. The Aaron Kudor Horror Variant featuring the black suit that first appeared in Spider-Man Deadpool #8 is fantastic. Also liking the Belen Ortega Silk Cover. There are several ratios to consider depending on how this pans out, a 1:25 in Hyuk Lee, a 1:50 Mark Bagley Variant, a 1:100 Alex Ross Timeless Sketch Cover.
Immortal Hulk #38 – cannot wait to read this to see if it is an all new or returning version of…. Oh, wait for the spoilers. And the Spoiler Cover does give it all away.
Small Press Pick of the Week
We Live #1 – Incredible new Aftershock series, reads like a sprawling animated movie. Aftershock did recently sign a new media deal, and in the news story this series was named. Worth a grab, especially if you can grab the 1:15 variant.
Picks of the Week
Captain Marvel #22 – Multiple first appearances in the book make it one to grab. We ran the spoilers on it last night. Check Mycomicshop to see if they have any at cover.
Star Wars Darth Vader #6 – Star Wars is hot right now. This issue features the first appearance of the Sith Assassin. The character has been in the movie and key to the story, but has never been in a comic before. We ran spoilers on this last night. Make sure to check Mycomicshop to see if they have any at cover.