Fortnite is coming to Batman. No surprise, Batman was in Fortnite a season or two ago, they did a special Joker/Poison Ivy pack over the holidays that went well. (Last season of Fortnite focused on Marvel characters and skins and had a very Marvel heavy storyline. This season pop culture skins include the Alien Xenomorph, Predator, Terminator, Daryl Dixon and Michonne, and others.)But I mean Batman Fortnite Zero Point #1. Ok, you guys are not excited yet, I get it. So why should you take the chance on the book? I mean after all, not like the Fortnite Marvel variants are selling for that much. No, the reason isn't a variant, the reason isn't even the story, the reason is below, from the solicitation…
*Each print issue of Batman/Fortnite: Zero Point will include a redeemable code for bonus DC-themed Fortnite digital items, inspired by the events in the comic, starting with the new Rebirth Harley Quinn Outfit.*
So buy the comic and get a code for an exclusive skin not available in the item shop. Mind you, Fortnite skins sell in the item shop for $12-$20.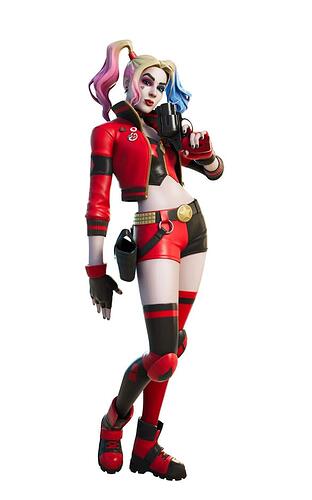 So, two winter's ago, Gamestop and Target were giving out codes for a Christmas themed pick axe. Those codes were selling on eBay for $20 each. Yes free codes for a pick axe selling for $20 each. There is one up on eBay for an expired code card selling for $76.71 right now. (A pickaxe is used for harvesting mats, building materials in the game.) This issue comes with a skin, a new Harley skin from the solicitation, pictured above.
Now this is one of those rare crossover events where the codes could be worth more than the contents of the comic. But, considering there will be covers from all-star artists, and Fortnite creator Donald Mustard (yes, that's his name) is working on art, and that the story will give exclusive insight into the game, this is a pretty in-depth crossover, that could have the 350 registered users scrambling to get the comics, or at least the codes.
FOC is 3/7 and books are in stores 4/20
Also important to note, people who get all six issues and redeem all six codes will also get an exclusive Armored Batman Skin. So rinse and repeat for future issues. Could sell very well in sets to get all six codes.