For those that sell books to buy more books, media options and or deals are the best thing one can hope for when it comes to selling comics.

So this week the big highlight is some movie news coming out of the Marvel Universe and my dislikes are just my normal rants and grunts.
Team Silk
I've been on Team Silk since the beginning. Around the same time Spider-Gwen gained popularity, there was also Silk coming directly from the pages of Amazing Spider-Man.
It was an easy decision for me, I just like Silk and her background story much better than the dead girl living in another alternate Universe that took the place of Peter Parker where he died and she went on to be Spider-Girl, Woman..  whatever they call her.
So the movie news in the past few days have made me happy and has also made Silk's J. Scott Campbell's variants
are selling around the $125 range on their own, which depicts Black Cat on the cover.
The big winner will be the 1:10 Ramos variant
though. CGC 9.8 are already selling around $300 with relative ease and even the raw copies are selling for an easy $150.
What was a $30-$50 book with very little sales in the past few months exploded over night with the movie news. Be on the look out for her Volume 1 Issue 1 books as well. These are starting to go up in price as well.
This is definitely things I like.
Liefeld being Liefeld
I'm not a huge Liefeld fan. Sure he's done some great things for the comic industry but when you hear stories about his reactions when he believes he's due credit, this just tells me the man has some serious insecurity issues.
Yeah, we get it Liefeld, you created Deadpool. You have some cover artwork that people create homage covers from. But you don't have to act like a total tool because your name isn't plastered on it.
And just so you know, Bloodstrike sucks. It sucked in the 90s and it still sucks now.
Walking Dead Day….    Again.
Just when we thought another Walking Dead #1 with what I feel is horrible looking cover art was enough, Kirkman and company decided to send out news of even more variants for Walking Dead Day. Kirkman is definitely milking the cash cow.

(Thanks to Uncle Willie to the linked image in a previous comment, hope you like my nice graphic edit)
Now we're getting more reprints of all the major key issues from the long running series. Even better, they're not just a single issue but come in a blind polybag where you might end up with a color, sketch (Black and White) or virgin variant.
So with 15 key issues being redone by artists and having 3 covers each, we're blessed with 45 different Walking Dead books to add to the collection.
Yeah, no thanks. I'm already having a hard enough time unloading the 1st prints now. I just sold a full run from issue 127 through 178 for a whopping $120. It was around 62 total issues. That's less than cover for each book at around $2 a book.
I've said it once and I'll say it again, Walking Dead is Walking Done!
Sweet Cover A Covers
There's nothing better than a regular cover A book. I always tell people to bet on Cover A but I love a great Cover A cover art.
I haven't even read the new Donny Cates Venom volume yet (I know, I'm behind) but I'm really digging Ryan Stegman's cover art for issue #3.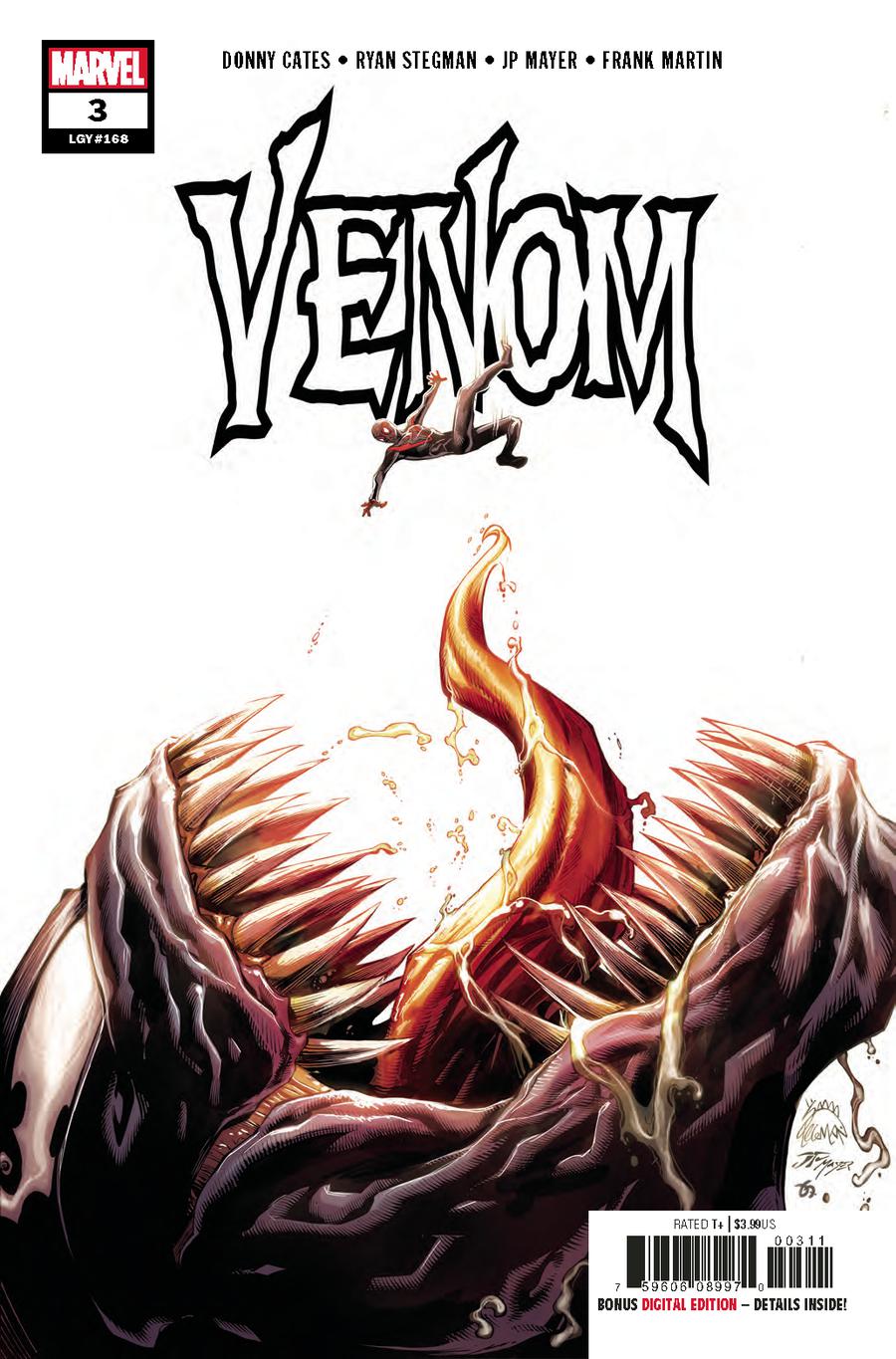 It's already selling out online. So grab'em if you see'em. They won't last long when the cover art is badass.