There were plenty in the comic flipping community that frowned upon articles that point out final order cut-off of books. Some claim this hurts comic flippers despite the information already being out there along with publishers emailing out such notices on their own books.
Last time I checked, CHU was a website for comic book flipping among the other noise we generate.
So perhaps we should revisit some of these highlighted books to see how much our highlights affected the secondary market, which I'm pretty certain made zero impact if we had mentioned the books or didn't mention them.

Today we'll revisit the FOC from Sept. 10th, 2018 just to see how much Final Order Cut-Off articles affect the secondary market.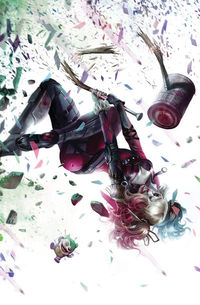 We saw Catwoman #4 Artgerm
variant highlighted but from past trends, these have not heated up due likely to shops catching on and ordering plenty of copies to go around. I don't think we anticipated this one to heat up, at this point most of Artgerm's books are for the personal collections.
Wonder Woman #56 Frison
cover B was another book mentioned. This peaked at $20 for a single issue and then mixed sets were selling for $20 average. Currently this book is selling between $5 and $10 on average. Frison is gaining a fan base for sure, if you find these out in the wild it's not a bad idea to grab and stash for a potential long term gamble for any future fans. Of if you like to swap a Lincoln for a Hamilton to have some extra lunch money, not a bad trade.

Next up was Suicide Squad #47 Mattina
Cover B. This was quickly a $20 book on average. Since then this turned into a solid $10-$12 book with most recent sales. There was a $18 dollar sold listing back on October 18th, which isn't to long ago.
Cursed Comics Cavalcade
is a $9.99 retail price book but it still jumped to be a $20 book. The most recent sale was at $18. At time of writing (after my big fat finger mistake), plenty for sale with most sales slightly above cover, at or right below cover price. Thanks Vann for catching my fat finger typing lookups.

Nic Klein gave us a glimpse with a blast from the past providing us a Deadpool #5 Garbage Pail Kid
cover of Deadpool.
This turned out as a winner for Marvel despite us giving everyone a heads up on it's final order cut-off.
Seems a lot of sets of this were selling well. 3, 4 and 5 copy lots were all selling above $30, some up to $50 ball park range. A few single issues sold around the $30 range on their own.
Since the hype has died down, now you can find these in the $10 range with relative ease.
Most of the remaining books were the Marvel X-Men Black Campbell
variants and the Battle Lines
variants that didn't heat up too much but were selling out at most online retailers.