It's that time again, where I tell you what's really grinding my gears for the week of July 3rd, 2019.
Some weeks it's mostly likes, other weeks it's dislikes.
So what's grinding my gears this week?
Sea of Stars
I got an advanced review copy and it's a great read. Jason Aaron rarely disappoints.
It's a definite pickup I think. I don't expect it to heat up though, it's Jason Aaron so I expect most retailers ordered enough copies to go around.
Maybe I'll try and get a advanced sneak peak preview up before Wednesday.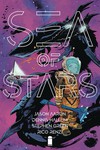 Sea of Stars #1
'LOST IN THE WILDS OF HEAVEN,' Part One: Being a space trucker sounds like a cool job, but in reality, it can be boring as hell. So when recently widowed Gil gets a long-haul gig across the universe, he figures it's safe enough to bring his young son Kadyn along for the ride-that is, until their 'big rig' gets bitten in half by a gigantic Space Leviathan!
Now separated from his son-with a breached suit that's venting oxygen at an alarming rate-Gil must defy the odds and stay alive long enough to rescue Kadyn. But meanwhile, Kadyn seems to be getting all the help he needs from a talking Space Monkey riding a Space Dolphin⦠or maybe it's the strange powers he's suddenly manifesting?! From the writing duo of JASON AARON (SOUTHERN BASTARDS, Thor) and DENNIS HALLUM (Cloak & Dagger, Vader: Dark Visions), with dazzling art by STEPHEN GREEN (Hellboy and the B.P.R.D.) and cosmic colors by RICO RENZI (Spider-Gwen), comes a brand-new science fiction series with all the……
Avengers Re-Release
Anyone read the extra footage you have to pay to see? It's all the crud you'll find on the DVD/Blu-Ray when released.
Seriously though, an entire re-release of unused footage that they couldn't even finish the CGI just so they can take down Avatar as highest grossing movie of all time. Gimme a break Marvel.
The only winners out of this was the movie theaters who scored more popcorn and soda sales out of it.
The Last God
I saw the solicitations for the new DC Black Label The Last God with Phillip Kennedy Johnson writing but the artwork looks fantastic with Riccardo Federici.
Let's just hope DC doesn't pull a Batman Damned and censor their own Mature Content to ruin the potential this book has.
Here's the solicitation for the upcoming book:
Thirty years ago, a fellowship of legendary adventurers saved their world by slaying the demonic tyrant Mol Uhltep — The Last God. Following his downfall, the realm entered a new age of peace and prosperity. But a generation later, when the leader of the original fellowship dies, their children and successors learn their terrible lie:

The Last God still lives.

A new generation of heroes must unearth the secrets that their parents kept, and set out to finish what was started thirty years before. And this time, they must not fail.
---
That's all I got this week for likes and dislikes. What's grinding your gears this week?