IDW
Canto #3 (of 6) (Cover A – Zucker)
Into the belly of the beast! Canto consults with the Hermit and learns the surprising truth about the slavers.
Canto's path is now laid out before him, but is he prepared to face a foe known only as the Shrouded Man?
Great new series. Issue #1
saw some definite love on the secondary, particularly since a large majority reported damaged copies across the board.
The artwork is great, the story is great. It's a definite winner when the two most important aspects of a comic book are great. Poor writing can kill a book with great artwork and vice versa.
I just hope after this series reaches it's end it's not actual ending, cause I'm sure I'll crave more Canto adventures. You can also pre-order Canto #4 (of 6) (Cover A – Zucker) currently as well.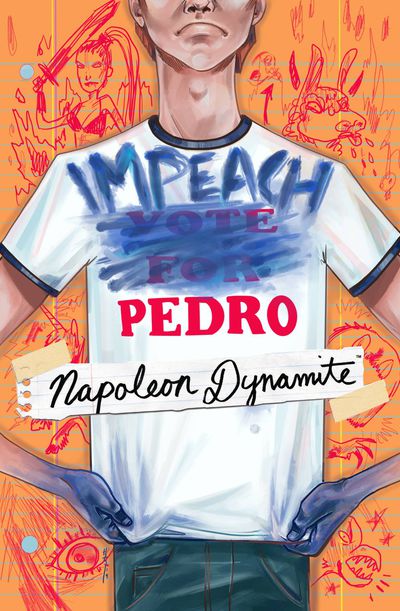 Napoleon Dynamite #1 (of 4) (Cover A – Richard)
NAPOLEON DYNAMITE is back and senior year is gonna be flippin' sweet! He's dating Deb, training at a new dojo, and his best friend, Pedro, is student body president.
But the good times might not last when a fellow student accuses Pedro of cheating in the election.
Can Napoleon and Deb use their special skills to clear their friend before the principal can IMPEACH PEDRO? Maybe, gosh, get off his back! 'IMPEACH PEDRO' Part 1 starts here!
* The cult classic comedy returns-in comic book form! SWEET! * Featuring Ligers, Llamas, and Tots, oh my! * Written by the creative team behind the smash-hit Time Cheetah-Carlos Guzman-Verdugo & Alejandro Verdugo! (Cheetahs are pretty much their favorite animal.)
Any fans of this movie out there? It's that type of comedy that wasn't for everyone but there are some classic scenes so this is a book to look out for. I just don't know how well the humor will carry over from the screen to comic book style.
Pandemica #1 (of 5) (Cover A – Sanchez)
War is brewing in America. A shadow government is preparing to launch 'purity bombs' for ethnic cleansing.
A small group of scientists and former SpecOps shooters stand in their way.
Join the resistance-save the world! Pandemica by New York Times bestseller Jonathan Maberry (V-Wars
, Black Panther: Doomwar). From the New York Times Bestselling author of V-Wars, Rot & Ruin, and Patient Zero!
From V-Wars recognition comes a new Maberry story. Everyone loves a good ethnic cleansing, world ending war where you root for the resistance fighters right?
Definitely worth checking out. Maberry has had books get optioned and V-Wars is apparently still in the works to make it to our screens.
---
Image Comics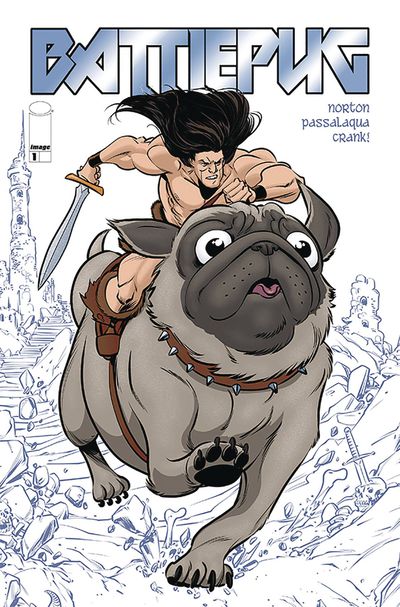 Battlepug #1 (Cover A – Norton & Passalaqua)
SERIES PREMIERE The hit fan-favorite webcomic created by the Eisner Award-winning duo of MIKE NORTON and ALLEN PASSALAQUA is now a NEW COMIC SERIES!
It's been a few years since the last Kinmundian saved the world with the help of his faithful Battlepug, but a new threat arises.
The epic tale returns as our favorite barbarian and his trusty overgrown dog renew their quest for insane adventure! Same dog. NEW TRICKS!
Pugs are like the ugliest cutest dogs in the world. I'd never own one myself but I'll read about them in a comic.
Worthy of checking out, it's a popular webcomic so it might make a few fans visit the shops on release day to check it out. I don't think we'll see much heat for this one though.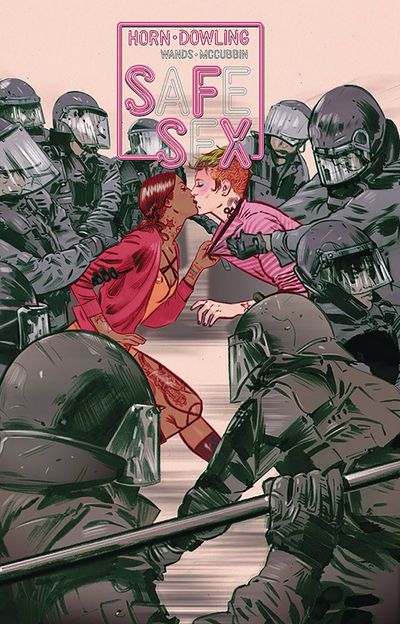 SERIES PREMIERE Notorious kink writer TINA HORN teams up with artist MICHAEL DOWLING (Unfollow, Death Sentence) for SFSX, a social thriller about sex, love, and torture that reads like SEX CRIMINALS in Gilead crossed with Oceans 8-with a SUNSTONE twist!
In a draconian America where sexuality is bureaucratized and policed, a group of queer sex workers keep the magic alive in an underground club called the Dirty Mind. Using their unique bondage skills, they resolve to infiltrate the mysterious government Pleasure Center, free their friends, and fight the power!
Might not be for everyone but will attract those who are into these types of stories.
These books that dive into the politics and sexuality could make some ripples that grabs headlines beyond just the comic book news outlets. So it's definitely a book to watch and possibly check out.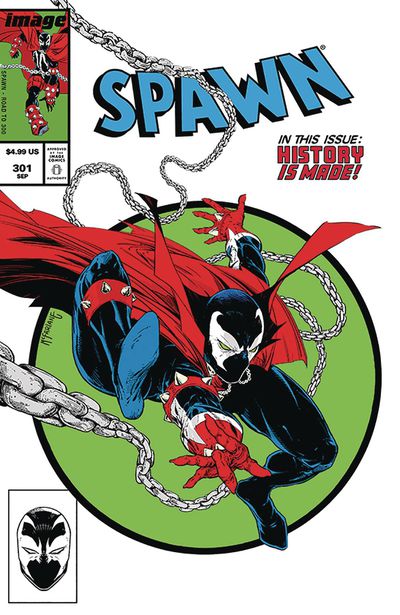 Spawn #301 (Cover A – McFarlane)
TODD McFARLANE returns to pencil and ink SPAWN #301-with GREG CAPULLO, JASON SHAWN ALEXANDER, CLAYTON CRAIN, JEROME OPEÑA, and FRANCESCO MATTINA, and even more surprises to come in the record-breaking, longest-running creator-owned comic book in history!
Just like Issue #300
, tons of covers for this issue.
Pick the one you like most, leave it at that.
Most of these anniversary issues based on a number milestone are over printed, easy to obtain and rarely ever heat up.
You can find Issue #100
and #200
for $10 or so. This one is back to normal cover price from issue #300 so you aren't eating to much more into your comic book weekly budget but go easy I say, unless something big happens.
For you Spawn fans, it's just a no brainer to pick up.