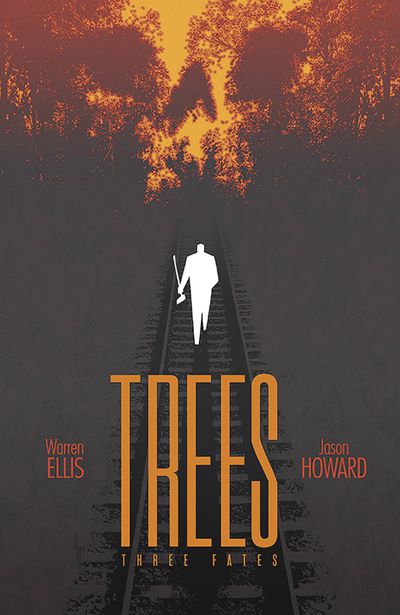 'A uniquely exciting read.' -IGN The acclaimed series from WARREN ELLIS and JASON HOWARD-which is currently being adapted for television-returns with a brand-new story of murder and ghosts!
In the remote Russian village of Toska, there's a dead body by the leg of the Tree that landed eleven years ago.
Police sergeant Klara Voranova, still haunted by that day, has no idea how this murder will change everything-nor what awaits her in the Tree's shadow.
Back with a new story arc. This was a enjoyable read so a nice refresher is welcoming. I think this also answers the question on what's the status of the original media deal or option. I'd guess it's still in development since mentioned in this solicitation.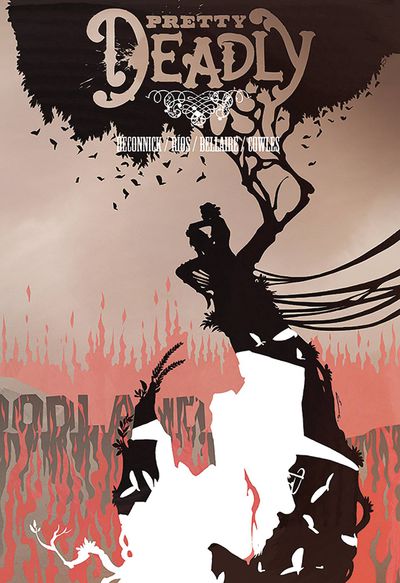 KELLY SUE DeCONNICK (BITCH PLANET, Captain Marvel) and EMMA RÍOS (MIRROR, I.D.) begin a new chapter in the dark and deadly golden era of Hollywood.
Select praise for PRETTY DEADLY:
'Pretty Deadly going to old Hollywood is the best turn this dark fable has taken yet. One of my favorite comics, aiming right at my jugular. I can't wait for more.' -Ed Brubaker '
With its poetry and violence, there's nothing like this. Cherish it.' -Kieron Gillen
'This weird western saga gleefully, dreamily fuses a Greek chorus, spaghetti westerns, American trickster tales and creepy Japanese shoujo (girls') manga. At the core of it, however, is a masterpiece of mythopoeism that many literary fantasists struggle to emulate.' -N.K. Jemisin, NYT Book Review
'A ferocious series of powerful characters born of gorgeous art. It is Sergio Leone crossed with Neil Gaiman's American Gods, a hellish yet alluring mix of epic mythology from the ancient poets, the relentlessly unforgiving……
Fans of the first volume will seek these out. This book and story would be even better if the gaps were a bit tighter. I believe that's what killed it for me the first round from what I recall.
A despondent Abel, carrying the weight of what he's learned in the Winter Woods, angrily parts ways his companion.
Fearing for the boy's safety in the run-down Rust Belt city they wandered into, Fox returns just in time to find Abel snatched and in a heap of trouble!
Skottie Youngs new ongoing series continues.
Great story + great artwork = Successful book.
I can't wait to see if this one gets a media deal, it's going to blow up. Grab it for the potential and future gamble but also grab'em for the read.
Sex! Chainsaws! Pancakes!
As Izzy seeks to wipe out all trace of her own existence, old relationships are revisited, old wounds are torn open, and all those she's wronged in the past take notice.
I actually got a advance preview of Coffin Bound #1 and it's not a bad read.
It's certainly a style and story I think most will enjoy and jump on board with.
So this one is definitely a book to check out to see where the story continues. You gotta show some type of interest when a book has sex, chainsaws and particularly, pancakes. I love pancakes!
MINISERIES FINALE Violence is on the wind, and Krylos hasn't taken a breath in decades. Can he save his son AND his soul while regaining the trust of lost friends?
The gorgeous, spectacular OVERSIZED TWO-ISSUE MINISERIES-written by CHIP ZDARSKY and illustrated by KRIS ANKA and MATT WILSON-concludes!
Anka artwork in oversized editions, yes please.
The finale of the short series by Chip and Anka. This one and White Trees #1 (of 2) have been on my list of books to pickup and read.
NEW STORY ARC FAMINE' Five years of storytelling have led to this! The final arc of EAST OF WEST begins now.
You wanted the End Times-well, here they come!
One of my favorite ongoing titles starts the finale here in it's final story arc before closing it out.
This is one of those books and stories that would make an epic Netflix or other type of show on cable or premium channels.
Can't wait to see how this all ends. I've actually been holding off on reading the last couple of story arcs to just wait and binge read it all.