We shouldn't just collect or flip books, we should also read them. A good story can make your purchase well worth the money spent if you ask me. After all, we buy books to read for entertainment right? Even if you can't flip them, reading is just as rewarding.
We tend to focus on mostly the floppy copies each week and kind of ignore the trades and hardcovers that come out week after week.
These can be one off books, collected editions or special editions.
---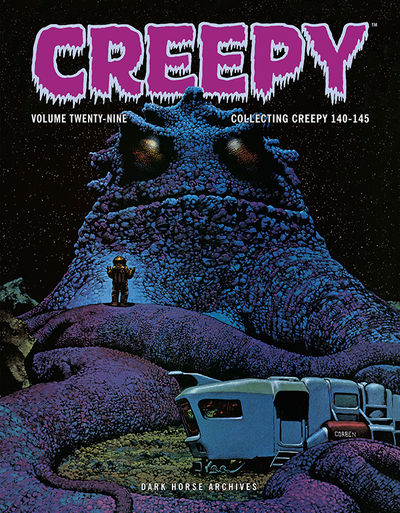 From 1964 to 1983, Creepy magazine set the standard for horror in graphic fiction.
Now, Dark Horse Books finishes the complete collection of the greatest horror publication in comics history with this final fear-filled volume.
Featuring the work of Roger McKenzie, Alex Nino, Don McGregor, Victor de la Fuente and many more, and with hair-raising tales of bloodthirsty vampires, ruthless graverobbers, invisible men, alien creatures, and homicidal maniacs, these are still the comics that give you the creeps! Collects Creepy #141 -#145.
A must for any Creepy fan. These are the nice hardcovers that would look nice up on your bookshelf.
---
Godzilla Kingdom of Monsters TPB
Advance solicited for July release!
The King of the Monsters rises again, and he's bringing lots of other beloved Toho monsters with him in one destructive saga!
When Godzilla appears off the coast of Japan, the Japanese government must respond quickly to contain the disaster… but before long, other monsters begin appearing all over the world. Can humanity survive this mysterious onslaught of giant beasts?
Featuring Anguirus, Battra, Destroyah, Gigan, Hedorah, King Ghidorah, Kumonga, Mechagodzilla, Mothra, Rodan, Spacegodzilla, and Titanosaurus. Collects the entire 12-issue series for the first time.
This is a must for any Godzilla fan.
---
Bags or a Story Thereof Original GN
This is the tale of John Motts. He is a man who had a dog, but now that dog is gone.
John searches his house, his street, and his town, but the dog is nowhere to be found. John soon realizes that he must travel further, past the road and into the trees if he's ever to find out the truth of what happened to his dog.
BAGS (or a story thereof) is a journey of love and suspense as John Motts searches through the world he knows, and a world he doesn't, weaved together beautifully by Pat McHale, creator of the Emmy Award-winning Cartoon Network series, Over The Garden Wall, and Gavin Fullerton (Disney's Space Chickens in Space).
This original graphic novel really caught my attention when I first saw it. The cover art grabbed such and being from the creator of Over the Garden Wall is a plus.
But as a dog owner and lover, I can relate to this book. If I lost my dog, I would go into the beyond to find my furry friend.
---
Ask the most powerful beings in the galaxy how they fear the universe will end, and in their most honest moment, they will answer with two words: 'Thanos wins.' Now that disturbing thought becomes a horrific reality!
See what happens when the Mad Titan achieves his ultimate victory. Will he cause the cosmos to spiral downward into chaos and death…or will something very different happen?
Plus: In the far future, an iconic and unexpected Marvel character has become – the Cosmic Ghost Rider! But following his experiences at the Titan's hands, what are his vengeful plans for…baby Thanos?!
Donny Cates explores Thanos' full legacy in a thrill ride that spans all the way from the end of time to the stunning events of Infinity Wars! Collecting THANOS (2016) #13-18 and ANNUAL #1, COSMIC GHOST RIDER #1-5 and THANOS LEGACY #1. Parental Advisory
You miss out on the Donny Cates run on Thanos? Can't bother spending loads of cash on all the floppies? This is the way to go to get that reading in to see what all the hoopla was about.