IDW

Canto #5 (of 6) (Cover A – Zucker)
Death from above! The Emerald Tower and the Shrouded Man are within reach, but three vicious Furies block Canto's way. Canto battles them bravely with his ax, but can he fight them… in his mind?
Awesome new series that has gained a following likely due to it's story telling and compelling style of art.

Cobra Kai Karate Kid Saga Continues #1 (of 4) (Cover A – McLeod)
'JOHNNY'S STORY,' Part 1. See The Karate Kid in a whole new light in this retelling through the eyes of Johnny Lawrence, two-time All Valley Tournament Champion.
When the new kid makes moves on the girl that broke Johnny's heart, he vows to settle the score and win back her love. Or so goes the story Sensei Lawrence tells his students nearly 35 years later. Written by Denton J. Tipton (X-Files) and illustrated by Kagan McLeod (Infinite Kung Fu). Based on the hit YouTube Original series Cobra Kai!
The classic Karate Kid movie story told for the first time from Johnny Lawrence's POV!
Each issue features exciting variant cover art with photos of the cast and other iconic images! Story by Denton J. Tipton sure to please Cobra Kai and Karate Kid fans old and new alike! Illustrated by Kagan McLeod of Infinite Kung Fu fame!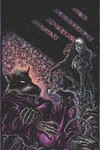 Teenage Mutant Ninja Turtles Ongoing #99 (Cover A – Wachter)
City at War, Part 7. New York City descends into chaos after the unthinkable events of the last issue!
Bishop is relentless in his pursuit, and a final showdown between Donatello and Metalhead will prove explosive!
Teenage Mutant Ninja Turtles Ongoing #99 (Cover B – Eastman)
Image Comics

Dead Eyes #1 (Cover A – McCrea)
You can't keep a good comic down. In the 1990s, DEAD EYES was a prolific stick-up man and hoodlum in Boston until he took down one last big score and disappeared. Nobody ever discovered the truth. He retired to be with the love of his life, but now he's back in the mask to save her. No one-not his wife, the mafia, or the cops-is happy that he's out of retirement.
From JOHN McCREA, the artist and co-creator of MYTHIC and Hitman, and GERRY DUGGAN, the writer of ANALOG and DEADPOOL, comes the action, comedy, and drama of Martin Dobbs, a.k.a. DEAD EYES, the man who says he's descended from one of the original gangs of New York City. Get on board the oversized first issue of an all-new ONGOING SERIES for mature readers.
It's back with a new title after the Dead Rabbit fiasco.. whatever it was!

Death or Glory #6 (Cover A – Bengal)
NEW STORY ARC Glory is back and barreling toward the Mexican border in the hopes of delivering the liver transplant to save her father's life. Hot on her heels is her ex-husband, his criminal empire, crooked cops, psycho killers, and a Mexican murder cartel. Time, fuel, and hope are running out, but no one outruns Glory!
Okay, huge delay but I'm just glad it's back. I forgive you Remender…
Get caught up with Death or Glory by picking up the Death or Glory TPB Vol 01.

Marked #1 (Cover A – Haberlin & Van Dyke)
SERIES PREMIERE DOUBLE-SIZED FOR SINGLE PRICE! THEIR MAGIC IS CHANNELED THROUGH THEIR TATTOOS!
The Marked may look like cool young influencers, but beneath the designer clothes, their bodies are tattooed with the magical glyphs of an ancient order that secretly protects the world against evil forces.
With no new occult threats, The Marked use their tattooed powers solely for the pursuit of pleasure until a young woman called Liza creates a dangerous new form of Hybrid Sorcery. The party is over for The Marked.
You'll believe in magic-terrifying, soul-destroying magic.

Nomen Omen #1 (of 15) (Cover A – Camagni)
SERIES PREMIERE 'TOTAL ECLIPSE OF THE HEART,' Part One No matter how fast you run, sooner or later your past will catch up with you.
Enter Becky Kumar, a geeky twenty-year-old from New York City who is about to cross the veil between our reality and a realm of otherworldly truths.
From writer and RPG creator MARCO B. BUCCI (Magna Veritas, Memento Mori) and artist JACOPO CAMAGNI (X-Men Blue, Deadpool The Duck) comes a tale of tales, witchcraft, and secrets for mature readers that rewires the rules of urban fantasy. #doyouwannaknowasecret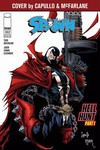 Spawn #302 (Cover A – Cappulo & McFarlane)
NEW STORY ARC 'THE HELL HUNT,' Part One In the aftermath of the record-setting SPAWN #300 and #301, new heroes-The Reaper and Jessica Priest: She-Spawn-join Spawn's war against the forces of Heaven and Hell.
The next evolution in the mythology and power of the Hellspawn begins NOW. PLUS: The return of MEDIEVAL SPAWN! THE HUNT IS ON.
She-Spawn is upon us..
Spawn #302 (Cover B – Virgin Capullo & McFarlane)
Spawn #302 (Cover C – B&W Capullo & McFarlane)
Valiant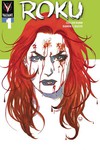 Roku #1 (of 4) (Cover A – Johnson)
How many lives must the lethal assassin Roku take in her first series? Killing her way around the globe, the deadly weapon called Roku will face a challenge she can't simply execute.
Being bad has never been so fun.
---
Tell us what you're looking forward to coming out from small publishers out of August previews.
I've covered DC, Indies and now Small Publishers. Stay tuned for the Marvel Previews spotlight books…